Sinking Force Z 1941 : The day the Imperial Japanese Navy killed the battleship
Konstam, Angus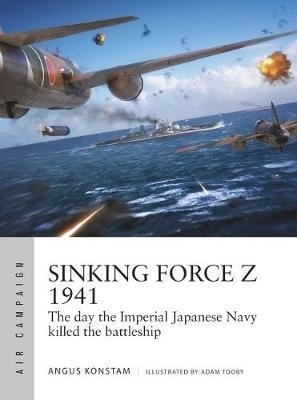 Formato papel
[Sin existencias. Plazo de entrega breve]
PVP.

20,45€
Sinking Force Z 1941 : The day the Imperial Japanese Navy killed the battleship
Konstam, Angus
Comenta y valora este libro
FICHA TÉCNICA
Editorial: Osprey Publishing
ISBN:

978-1-4728-4660-0

Fecha de edición:

2021

Nº edición:

1

Idioma:

Inglés

Encuadernación:

tapa blanda

Dimensiones: 0 cm x 0 cm

Nº páginas:

96

Materias: Historia naval y marítima

/
resumen
comentarios
índice
A history and analysis of one of the most dramatic moments in both air power and naval history. With the sinking of HMS Prince of Wales and Repulse, no battleship was safe on the open ocean, and the aircraft took its crown as the most powerful maritime weapon

In late 1941, war was looming with Japan, and Britain's empire in southeast Asia was at risk. The British government decided to send Force Z, which included the state-of-the-art battleship Prince of Wales and the battlecruiser Repulse, to bolster the naval defences of Singapore, and provide a mighty naval deterrent to Japanese aggression. These two powerful ships arrived in Singapore on 2 December - five days before the Japanese attack on Pearl Harbor. But crucially, they lacked air cover. On 9 December Japanese scout planes detected Force Z's approach in the Gulf of Thailand. Unlike at Pearl Harbor, battleships at sea could manoeuvre, and their anti-aircraft defences were ready. But it did no good. The Japanese dive-bombers and torpedo-bombers were the most advanced in the world, and the battle was one-sided.

Strategically, the loss of Force Z was a colossal disaster for the British, and one that effectively marked the end of its empire in the East. But even more importantly, the sinking marked the last time that battleships were considered to be the masters of the ocean. From that day on, air power rather than big guns would be the deciding factor in naval warfare.
Formato papel
[Sin existencias. Plazo de entrega breve]
PVP.

20,45€
Otros libros de Konstam, Angus
[En stock. Entrega en 24 / 48 horas]

PVP. 18,00€

[En stock. Entrega en 24 / 48 horas]

PVP. 23,00€

[En stock. Entrega en 24 / 48 horas]

PVP. 17,00€

[En stock. Entrega en 24 / 48 horas]

PVP. 18,00€

[En stock. Entrega en 24 / 48 horas]

PVP. 25,00€

[En stock. Entrega en 24 / 48 horas]

PVP. 18,30€

[En stock. Entrega en 24 / 48 horas]

PVP. 16,50€

[Sin existencias. Plazo de entrega breve]

PVP. 19,25€

[En stock. Entrega en 24 / 48 horas]

PVP. 25,00€

[En stock. Entrega en 24 / 48 horas]

PVP. 18,45€

[En stock. Entrega en 24 / 48 horas]

PVP. 34,00€

[Sin existencias. Plazo de entrega breve]

PVP. 16,00€

[En stock. Entrega en 24 / 48 horas]

PVP. 16,00€

[En stock. Entrega en 24 / 48 horas]

PVP. 19,50€

[En stock. Entrega en 24 / 48 horas]

PVP. 15,50€

[Sin existencias. Plazo de entrega breve]

PVP. 15,50€

[Sin existencias. Plazo de entrega breve]

PVP. 15,50€

[En stock. Entrega en 24 / 48 horas]

PVP. 19,00€

[Sin existencias. Plazo de entrega breve]

PVP. 15,50€

[Sin existencias. Plazo de entrega breve]

PVP. 20,00€

[En stock. Entrega en 24 / 48 horas]

PVP. 16,50€

[En stock. Entrega en 24 / 48 horas]

PVP. 19,50€

[Sin existencias. Plazo de entrega breve]

PVP. 22,00€

[Sin existencias. Plazo de entrega breve]

PVP. 18,50€

[Sin existencias. Plazo de entrega breve]

PVP. 15,00€

[Sin existencias. Plazo de entrega breve]

PVP. 9,00€

[Sin existencias. Plazo de entrega breve]

PVP. 22,00€

[En stock. Entrega en 24 / 48 horas]

PVP. 15,00€

[En stock. Entrega en 24 / 48 horas]

PVP. 22,50€

[En stock. Entrega en 24 / 48 horas]

PVP. 21,50€

[En stock. Entrega en 24 / 48 horas]

PVP. 19,00€

[En stock. Entrega en 24 / 48 horas]

PVP. 22,50€

[En stock. Entrega en 24 / 48 horas]

PVP. 15,00€

[En stock. Entrega en 24 / 48 horas]

PVP. 22,50€

[En stock. Entrega en 24 / 48 horas]

PVP. 15,90€

[Sin existencias. Plazo de entrega breve]

PVP. 15,00€

[En stock. Entrega en 24 / 48 horas]

PVP. 15,50€

[En stock. Entrega en 24 / 48 horas]

PVP. 15,50€

[En stock. Entrega en 24 / 48 horas]

PVP. 15,90€

[En stock. Entrega en 24 / 48 horas]

PVP. 17,00€

[Sin existencias. Plazo de entrega breve]

PVP. 15,00€

[En stock. Entrega en 24 / 48 horas]

PVP. 15,00€

[En stock. Entrega en 24 / 48 horas]

PVP. 15,90€

[En stock. Entrega en 24 / 48 horas]

PVP. 17,95€