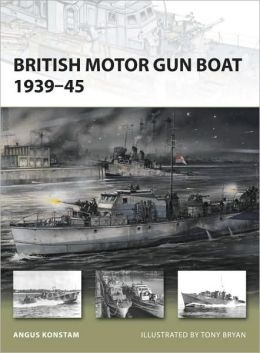 Formato papel
[Sin existencias. Plazo de entrega breve]
PVP.

15,00€
Comenta y valora este libro
resumen
comentarios
índice
During World War II, few groups within the Royal Navy fought a harder, more intense war than the men of Coastal Forces. Their job was to operate the Motor Torpedo Boats (MTBs), Motor Launches (MLs) and Motor Gun Boats (MGBs) that protected coastal convoys, attacked enemy ones, and performed a myriad of duties, which include the dropping of agents and commandos on a hostile shore, raids on enemy ports, and near-suicidal attacks on larger enemy warships. While the MTBs were the "bombers", delivering their payload of high explosive torpedoes, the crew of the MGBs used their machine guns and small-calibre guns to sink, burn or destroy their enemy counterparts. For that reason they saw their frail, sleek craft as the "Spitfire of the Seas".

Motor Gun Boats were similar to Motor Torpedo Boats, only their decks were crammed with as many guns as they could carry - and to man these weapons, they required a larger crew. During the early years of the war, they were used to counter the threat posed by German E-Boats in the English Channel, but by 1941 they were in use offensively, conducting sweeps along the enemy coast in search of prey. By 1942 British MGBs were seen in the Mediterranean, interdicting Axis supply routes to North Africa, and later supporting the Allied invasion forces as they landed in Sicily, Italy and the South of France.

The majority of these small wooden craft were built in Britain by the British Power Boat Company or Fairmile Marine. They came in a variety of shapes and sizes, but in late 1942 the Fairmile "D" MGB made its appearance - a boat which would come to dominate coastal operations during the last years of the war. Known as "Dog Boats" by their crew, they were fast, powerful and versatile. By the end of the war, over 200 of these small boats had been built and they represented the pinnacle of wartime British motor boat design.

This New Vanguard title tells the story of these fragile but deadly little warships.
Formato papel
[Sin existencias. Plazo de entrega breve]
PVP.

15,00€
Otros libros de Konstam, Angus
[En stock. Entrega en 24 / 48 horas]

PVP. 18,00€

[En stock. Entrega en 24 / 48 horas]

PVP. 23,00€

[En stock. Entrega en 24 / 48 horas]

PVP. 17,00€

[En stock. Entrega en 24 / 48 horas]

PVP. 18,00€

[En stock. Entrega en 24 / 48 horas]

PVP. 25,00€

[En stock. Entrega en 24 / 48 horas]

PVP. 18,30€

[En stock. Entrega en 24 / 48 horas]

PVP. 16,50€

[Sin existencias. Plazo de entrega breve]

PVP. 19,25€

[Sin existencias. Plazo de entrega breve]

PVP. 20,45€

[En stock. Entrega en 24 / 48 horas]

PVP. 25,00€

[En stock. Entrega en 24 / 48 horas]

PVP. 18,45€

[En stock. Entrega en 24 / 48 horas]

PVP. 34,00€

[Sin existencias. Plazo de entrega breve]

PVP. 16,00€

[En stock. Entrega en 24 / 48 horas]

PVP. 16,00€

[En stock. Entrega en 24 / 48 horas]

PVP. 19,50€

[En stock. Entrega en 24 / 48 horas]

PVP. 15,50€

[Sin existencias. Plazo de entrega breve]

PVP. 15,50€

[Sin existencias. Plazo de entrega breve]

PVP. 15,50€

[En stock. Entrega en 24 / 48 horas]

PVP. 19,00€

[Sin existencias. Plazo de entrega breve]

PVP. 15,50€

[Sin existencias. Plazo de entrega breve]

PVP. 20,00€

[En stock. Entrega en 24 / 48 horas]

PVP. 16,50€

[En stock. Entrega en 24 / 48 horas]

PVP. 19,50€

[Sin existencias. Plazo de entrega breve]

PVP. 22,00€

[Sin existencias. Plazo de entrega breve]

PVP. 18,50€

[Sin existencias. Plazo de entrega breve]

PVP. 9,00€

[Sin existencias. Plazo de entrega breve]

PVP. 22,00€

[En stock. Entrega en 24 / 48 horas]

PVP. 15,00€

[En stock. Entrega en 24 / 48 horas]

PVP. 22,50€

[En stock. Entrega en 24 / 48 horas]

PVP. 21,50€

[En stock. Entrega en 24 / 48 horas]

PVP. 19,00€

[En stock. Entrega en 24 / 48 horas]

PVP. 22,50€

[Sin existencias. Plazo de entrega breve]

PVP. 15,00€

[Sin existencias. Plazo de entrega breve]

PVP. 22,50€

[En stock. Entrega en 24 / 48 horas]

PVP. 15,90€

[Sin existencias. Plazo de entrega breve]

PVP. 15,00€

[Sin existencias. Plazo de entrega breve]

PVP. 15,50€

[En stock. Entrega en 24 / 48 horas]

PVP. 15,50€

[En stock. Entrega en 24 / 48 horas]

PVP. 15,90€

[En stock. Entrega en 24 / 48 horas]

PVP. 17,00€

[Sin existencias. Plazo de entrega breve]

PVP. 15,00€

[En stock. Entrega en 24 / 48 horas]

PVP. 15,00€

[En stock. Entrega en 24 / 48 horas]

PVP. 15,90€

[En stock. Entrega en 24 / 48 horas]

PVP. 17,95€