British Battleship vs German Battleship: 1941 43 (Duel)
Konstam, Angus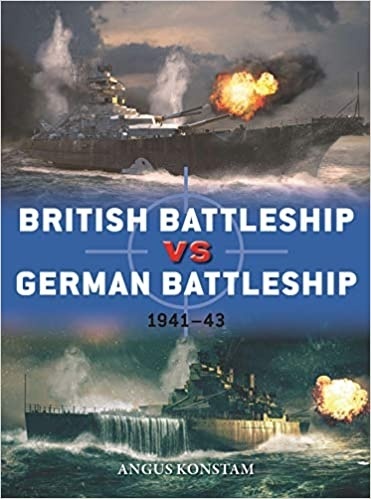 Formato papel
[En stock. Entrega en 24 / 48 horas]
PVP.

18,45€
British Battleship vs German Battleship: 1941 43 (Duel)
Konstam, Angus
Comenta y valora este libro
resumen
comentarios
índice
At the outbreak of World War II, the four key Capital German ships comprised the Bismarck, Tirpitz, Scharnhorst, and Gneisenau. Their primary threats where the Royal Navy's King George V class battleships, the most modern British battleships in commission during World War II and some of the Navy's most powerful vessels. Five ships of this class were built: HMS King George V, Prince of Wales, Duke of York, Howe (late 1942) and Anson (late 1942). The powerful vessels in this class would clash with the pride of the Kriegsmarine in two major engagements: first, during the Battle of the Denmark Strait and subsequent pursuit of the Bismarck between 24 and 27 May 1941, and again at the Battle of the North Cape on 26 December 1943.

Alongside the King George V class, the Royal Navy's two- ship Nelson- class (Nelson and Rodney), comprised Britain's only other battleships built in the interwar years. Both ships served extensively in the Atlantic, Mediterranean, and Indian oceans during the war, but their moment of fame came when Rodney (together with King George V) chased down and bombarded the doomed Bismarck in May 1941.

This superbly detailed addition to the Duel series compares and contrasts the design and development of these opposing capital ships, and describes the epic clashes on the high seas that ended with the destruction of the Kriegsmarine's major naval assets.
Formato papel
[En stock. Entrega en 24 / 48 horas]
PVP.

18,45€
Otros libros de Konstam, Angus
[En stock. Entrega en 24 / 48 horas]

PVP. 18,00€

[En stock. Entrega en 24 / 48 horas]

PVP. 23,00€

[En stock. Entrega en 24 / 48 horas]

PVP. 17,00€

[En stock. Entrega en 24 / 48 horas]

PVP. 18,00€

[En stock. Entrega en 24 / 48 horas]

PVP. 25,00€

[En stock. Entrega en 24 / 48 horas]

PVP. 18,30€

[En stock. Entrega en 24 / 48 horas]

PVP. 16,50€

[Sin existencias. Plazo de entrega breve]

PVP. 19,25€

[Sin existencias. Plazo de entrega breve]

PVP. 20,45€

[En stock. Entrega en 24 / 48 horas]

PVP. 25,00€

[En stock. Entrega en 24 / 48 horas]

PVP. 34,00€

[Sin existencias. Plazo de entrega breve]

PVP. 16,00€

[En stock. Entrega en 24 / 48 horas]

PVP. 16,00€

[En stock. Entrega en 24 / 48 horas]

PVP. 19,50€

[En stock. Entrega en 24 / 48 horas]

PVP. 15,50€

[Sin existencias. Plazo de entrega breve]

PVP. 15,50€

[Sin existencias. Plazo de entrega breve]

PVP. 15,50€

[En stock. Entrega en 24 / 48 horas]

PVP. 19,00€

[Sin existencias. Plazo de entrega breve]

PVP. 15,50€

[Sin existencias. Plazo de entrega breve]

PVP. 20,00€

[En stock. Entrega en 24 / 48 horas]

PVP. 16,50€

[En stock. Entrega en 24 / 48 horas]

PVP. 19,50€

[Sin existencias. Plazo de entrega breve]

PVP. 22,00€

[Sin existencias. Plazo de entrega breve]

PVP. 18,50€

[Sin existencias. Plazo de entrega breve]

PVP. 15,00€

[Sin existencias. Plazo de entrega breve]

PVP. 9,00€

[Sin existencias. Plazo de entrega breve]

PVP. 22,00€

[En stock. Entrega en 24 / 48 horas]

PVP. 15,00€

[En stock. Entrega en 24 / 48 horas]

PVP. 22,50€

[En stock. Entrega en 24 / 48 horas]

PVP. 21,50€

[En stock. Entrega en 24 / 48 horas]

PVP. 19,00€

[En stock. Entrega en 24 / 48 horas]

PVP. 22,50€

[En stock. Entrega en 24 / 48 horas]

PVP. 15,00€

[En stock. Entrega en 24 / 48 horas]

PVP. 22,50€

[En stock. Entrega en 24 / 48 horas]

PVP. 15,90€

[Sin existencias. Plazo de entrega breve]

PVP. 15,00€

[En stock. Entrega en 24 / 48 horas]

PVP. 15,50€

[En stock. Entrega en 24 / 48 horas]

PVP. 15,50€

[En stock. Entrega en 24 / 48 horas]

PVP. 15,90€

[En stock. Entrega en 24 / 48 horas]

PVP. 17,00€

[Sin existencias. Plazo de entrega breve]

PVP. 15,00€

[En stock. Entrega en 24 / 48 horas]

PVP. 15,00€

[En stock. Entrega en 24 / 48 horas]

PVP. 15,90€

[En stock. Entrega en 24 / 48 horas]

PVP. 17,95€