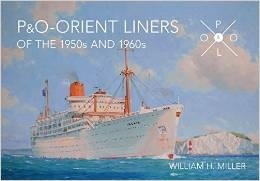 Formato papel
[Sin existencias. Plazo de entrega breve]
PVP.

38,00€
Comenta y valora este libro
FICHA TÉCNICA
Editorial: Amberley Publishing
ISBN:

978-1-4456-3813-3

Fecha de edición:

2014

Idioma:

Castellano

Encuadernación:

Rústica

Dimensiones: 0 cm x 0 cm

Nº páginas:

0
resumen
comentarios
índice
The 1950s and 1960s were the golden age of shipping, with many superbly designed and modern liners built for service before the airliner had eroded the margins and passenger numbers of so many routes. The route to Australia and New Zealand lasted much longer due to the times taken by aircraft to fly there and the emigrants, who wanted the slow voyage, with their worldly possessions in the hold, that a passenger ship offered.

Let Bill Miller take you on a voyage aboard the ships of P&O and Orient Line in the immediate post-war period.
Formato papel
[Sin existencias. Plazo de entrega breve]
PVP.

38,00€
Otros libros de Miller, William H.
[Sin existencias. Plazo de entrega breve]

PVP. 29,90€

[Sin existencias. Plazo de entrega breve]

PVP. 29,90€

[Sin existencias. Plazo de entrega breve]

PVP. 32,00€

[Sin existencias. Plazo de entrega breve]

PVP. 34,00€

[Sin existencias. Plazo de entrega breve]

PVP. 39,00€

[Sin existencias. Plazo de entrega breve]

PVP. 29,00€

[En stock. Entrega en 24 / 48 horas]

PVP. 30,00€

[Sin existencias. Plazo de entrega breve]

PVP. 32,00€

[Sin existencias. Plazo de entrega breve]

PVP. 28,00€

[Sin existencias. Plazo de entrega breve]

PVP. 26,50€

[Sin existencias. Plazo de entrega breve]

PVP. 29,50€