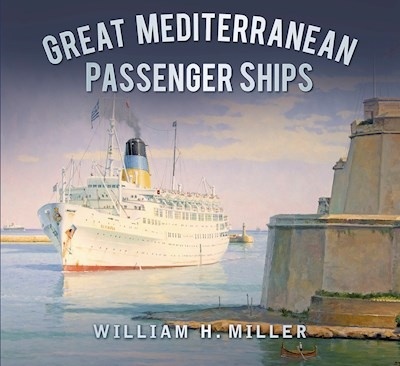 Formato papel
[En stock. Entrega en 24 / 48 horas]
PVP.

34,00€
Comenta y valora este libro
FICHA TÉCNICA
Editorial: The History Press
ISBN:

978-0-7509-6308-4

Fecha de edición:

2016

Idioma:

Castellano

Encuadernación:

Rústica

Dimensiones: 0 cm x 27 cm

Nº páginas:

96
resumen
comentarios
índice
It is hard to think of the passenger liners from the golden era of Mediterranean cruising without also conjuring the nostalgic, dream-like vision of azure-blue waters, bright sunshine and swimming pools with clusters of umbrellas and sunbathing passengers. The great age of Mediterranean passenger liners began in the 1920s when the Italians built their first big ships, such as the Augustus, Saturnia and Conte Grande. In the 1930s, things got really interesting with the creation of the superliners Rex and Conte di Savoia. In the 1950s and '60s, as Italy built a huge post-war fleet, Greece, Spain, Portugal, Turkey and Israel commissioned their biggest ships yet. William Miller has written ninety books on passenger ships and is an acknowledged world expert in his field. Full of colour and the first-hand memories of passengers and crew, this endearing reflection on the majestic world of Mediterranean travel cannot be missed. Quick, the whistles are sounding!
Formato papel
[En stock. Entrega en 24 / 48 horas]
PVP.

34,00€
Otros libros de Miller, William H.
[Sin existencias. Plazo de entrega breve]

PVP. 29,90€

[Sin existencias. Plazo de entrega breve]

PVP. 29,90€

[Sin existencias. Plazo de entrega breve]

PVP. 32,00€

[Sin existencias. Plazo de entrega breve]

PVP. 39,00€

[Sin existencias. Plazo de entrega breve]

PVP. 29,00€

[En stock. Entrega en 24 / 48 horas]

PVP. 30,00€

[Sin existencias. Plazo de entrega breve]

PVP. 32,00€

[Sin existencias. Plazo de entrega breve]

PVP. 38,00€

[Sin existencias. Plazo de entrega breve]

PVP. 28,00€

[Sin existencias. Plazo de entrega breve]

PVP. 26,50€

[En stock. Entrega en 24 / 48 horas]

PVP. 29,50€