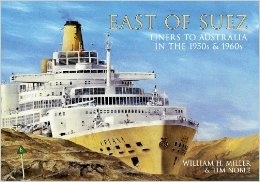 Formato papel
[Sin existencias. Plazo de entrega breve]
PVP.

26,50€
Comenta y valora este libro
resumen
comentarios
índice
The advent of the jet airliner all but killed the liner on the Atlantic route but the ships to Australia survived into the 1970s, not just on the liner trade but also carrying emigrants from the UK and Europe to Australia. Many a tenpound- pom was carried on the ships of Orient, P&O, Shaw Savill and the foreign vessels of the Chandris and Sitmar lines, as well as other Italian ships too. Bill Miller and Tim Noble tell the story of the liners that travelled East of Suez. Ships such as Canberra, Orsova, Oriana, Britannis, Ellinis and Guglielmo Marconi are all included in the rare and unseen images.
Formato papel
[Sin existencias. Plazo de entrega breve]
PVP.

26,50€
Otros libros de Miller, William H.
[Sin existencias. Plazo de entrega breve]

PVP. 29,90€

[Sin existencias. Plazo de entrega breve]

PVP. 29,90€

[Sin existencias. Plazo de entrega breve]

PVP. 32,00€

[En stock. Entrega en 24 / 48 horas]

PVP. 34,00€

[Sin existencias. Plazo de entrega breve]

PVP. 39,00€

[Sin existencias. Plazo de entrega breve]

PVP. 29,00€

[En stock. Entrega en 24 / 48 horas]

PVP. 30,00€

[Sin existencias. Plazo de entrega breve]

PVP. 32,00€

[Sin existencias. Plazo de entrega breve]

PVP. 38,00€

[Sin existencias. Plazo de entrega breve]

PVP. 28,00€

[En stock. Entrega en 24 / 48 horas]

PVP. 29,50€