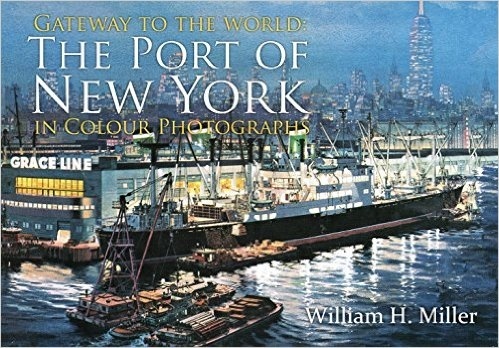 Formato papel
[En stock. Entrega en 24 / 48 horas]
PVP.

30,00€
Comenta y valora este libro
FICHA TÉCNICA
Editorial: Amberley Publishing
ISBN:

978-1-4456-4823-1

Fecha de edición:

2015

Idioma:

Castellano

Encuadernación:

Rústica

Dimensiones: 0 cm x 0 cm

Nº páginas:

128
resumen
comentarios
índice
The port of New York has been a centre for trade since the eighteenth century, when it was involved in trade between Europe, Africa and North America. However, its real expansion came in the nineteenth century when increasing industrialisation and the development of canals and then railways caused a huge expansion in the port. At the start of the twentieth century, the age of the ocean liner, and of mass emigration, made New York the busiest port in the world in 1910. The expansion continued as the twentieth century went on; although emigration tailed off following the First World War, the First and Second World Wars made New York an embarkation centre for troops heading to Europe and North Africa and the home of numerous naval and other military bases. Although trade patterns changed drastically after the Second World War, the Port of New York has remained a major commercial centre. In this book, William H. Miller uses a wonderful collection of colour photographs to show how it has changed.
Formato papel
[En stock. Entrega en 24 / 48 horas]
PVP.

30,00€
Otros libros de Miller, William H.
[Sin existencias. Plazo de entrega breve]

PVP. 29,90€

[Sin existencias. Plazo de entrega breve]

PVP. 29,90€

[Sin existencias. Plazo de entrega breve]

PVP. 32,00€

[En stock. Entrega en 24 / 48 horas]

PVP. 34,00€

[Sin existencias. Plazo de entrega breve]

PVP. 39,00€

[Sin existencias. Plazo de entrega breve]

PVP. 29,00€

[Sin existencias. Plazo de entrega breve]

PVP. 32,00€

[Sin existencias. Plazo de entrega breve]

PVP. 38,00€

[Sin existencias. Plazo de entrega breve]

PVP. 28,00€

[Sin existencias. Plazo de entrega breve]

PVP. 26,50€

[En stock. Entrega en 24 / 48 horas]

PVP. 29,50€