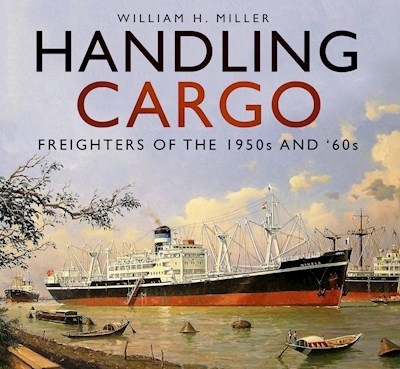 Formato papel
[Sin existencias. Plazo de entrega breve]
PVP.

29,90€
Comenta y valora este libro
resumen
comentarios
índice
Freighters of the 1950s and '60s with masts, booms and hatches were the last of their generation. It was the end of an era, just before the massive transition to faster, more efficient containerised shipping on larger and larger vessels. These were working ships', but many would be retired prematurely and finish up under flags of convenience, for virtually unknown owners, before going off to the scrappers in the 1970s and '80s. For some ships, their life's work was cut short and their decommissioning was quick. In Handling Cargo, William H. Miller remembers the likes of Cunard, Holland America and United States Lines on the North Atlantic, Moore McCormack Lines to South America, Farrell Lines to Africa and P&O out East.
Formato papel
[Sin existencias. Plazo de entrega breve]
PVP.

29,90€
Otros libros de Miller, William H.
[Sin existencias. Plazo de entrega breve]

PVP. 29,90€

[Sin existencias. Plazo de entrega breve]

PVP. 32,00€

[En stock. Entrega en 24 / 48 horas]

PVP. 34,00€

[Sin existencias. Plazo de entrega breve]

PVP. 39,00€

[Sin existencias. Plazo de entrega breve]

PVP. 29,00€

[En stock. Entrega en 24 / 48 horas]

PVP. 30,00€

[Sin existencias. Plazo de entrega breve]

PVP. 32,00€

[Sin existencias. Plazo de entrega breve]

PVP. 38,00€

[Sin existencias. Plazo de entrega breve]

PVP. 28,00€

[Sin existencias. Plazo de entrega breve]

PVP. 26,50€

[En stock. Entrega en 24 / 48 horas]

PVP. 29,50€