Warships After London : The End of the Treaty Era in the Five Major Fleets, 1930-1936
Jordan, John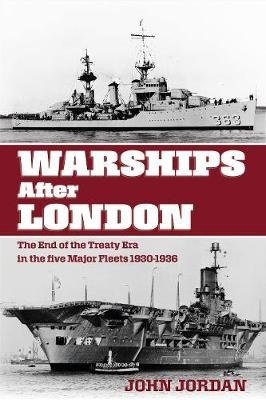 Formato papel
[Sin existencias. Plazo de entrega breve]
PVP.

36,00€
Warships After London : The End of the Treaty Era in the Five Major Fleets, 1930-1936
Jordan, John
Comenta y valora este libro
FICHA TÉCNICA
Editorial: Seaforth Publishing
ISBN:

978-1-5267-7749-2

Fecha de edición:

2020

Nº edición:

1

Idioma:

Inglés

Encuadernación:

Tapa dura

Dimensiones: 0 cm x 0 cm

Nº páginas:

320
resumen
comentarios
índice
The Washington Treaty of February 1922 put a cap on the construction of capital ships and aircraft carriers while failing to impose similar restraints on auxiliary' vessels or submarines. This led to a competition in treaty cruisers' - ships of the maximum 10,000-ton displacement allowed, armed with multiple 8in guns - and in submarines, many of which were designed for long range and high speed on the surface. During the 1920s the French and the Japanese took particular advantage of the absence of quantitative or qualitative limits for these vessels to compensate for their inferiority in capital ships. Thus, as the ten-year review of Washington approached, Britain and the United States attempted to extend the ratios agreed in 1922 to the newly-defined categories of cruisers, destroyers and submarines. The negotiations which resulted in the Treaty of London of April 1930 were fraught, and the agreement proved controversial, particularly in Japan.

Warships After London examines warship developments in the five major navies during the period 1930-1936 . Long-term plans were disrupted, and new construction had to be reviewed in the light of the new treaty regulations. The imposition of new quantitative limits for cruisers, destroyers and submarines led to new, often smaller designs, and a need to balance unit size against overall numbers within each of the categories.

As ships produced under these restrictions were the newest available when war broke out in 1939, this book is a major contribution to understanding the nature of the navies involved. Its value is enhanced by well-chosen photographs and by the author's specially-prepared line drawings showing the overall layout, armament, protection and propulsion of the ships laid down during the period.

Warships After London is a fitting sequel to the author's acclaimed Warships After Washington , first published by Seaforth in 2011.
Formato papel
[Sin existencias. Plazo de entrega breve]
PVP.

36,00€
Otros libros de Jordan, John
[En stock. Entrega en 24 / 48 horas]

PVP. 60,00€

[Sin existencias. Plazo de entrega breve]

PVP. 23,50€

[Sin existencias. Plazo de entrega breve]

PVP. 49,00€

[Sin existencias. Plazo de entrega breve]

PVP. 54,00€

[Sin existencias. Plazo de entrega breve]

PVP. 62,00€