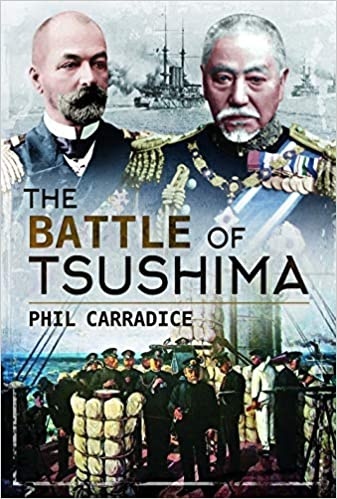 Formato papel
[Sin existencias. Plazo de entrega breve]
PVP.

32,00€
Comenta y valora este libro
resumen
comentarios
índice
In 1905, Japan and Russia were at war. With the Russian Far East Fleet destroyed, the Czar decided to send his Baltic Fleet half way around the world to exact revenge. This mammoth journey took many months and was, in itself, an amazing feat of seamanship. But, at the end of this epic adventure, the Russians were totally overwhelmed and the vast majority of the fleet went to the bottom. There was no alternative for the Czar but to sue for an ignominious peace.

The story of the journey and the final battle remain fascinating.



The naval battle of Tsushima is one of the forgotten actions of the twentieth century, but it has an immense significance in world history.
Formato papel
[Sin existencias. Plazo de entrega breve]
PVP.

32,00€
Otros libros de Carradice, Phil
[Sin existencias. Plazo de entrega breve]

PVP. 18,00€

[Sin existencias. Plazo de entrega breve]

PVP. 19,00€

[Sin existencias. Plazo de entrega breve]

PVP. 25,00€

[Sin existencias. Plazo de entrega breve]

PVP. 21,50€

[Sin existencias. Plazo de entrega breve]

PVP. 21,50€

[Sin existencias. Plazo de entrega breve]

PVP. 21,40€

[Sin existencias. Plazo de entrega breve]

PVP. 25,00€

[Sin existencias. Plazo de entrega breve]

PVP. 21,50€