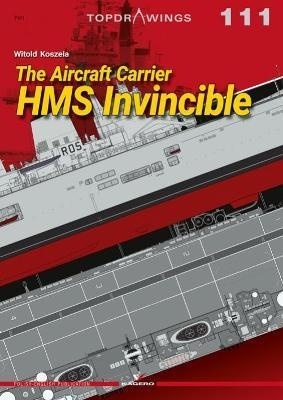 Formato papel
[Sin existencias. Plazo de entrega breve]
PVP.

25,00€
Comenta y valora este libro
resumen
comentarios
índice
HMS Invincible was the lead ship of a class of British light aircraft carriers built between 1973 and 1985, originally designed as "through-deck cruisers" (TDC). This set them apart from conventional helicopter-carrying ships of the time, which typically featured a flight deck in the aft section of the vessel.

Invincible-class carriers were the world's largest warships powered by gas turbines and featured a modular design which allowed replacement and upgrades of various elements of propulsion system and equipment without the need for any structural modifications of the hull.

A characteristic feature of the Invincible class was a "ski-jump" ramp at the end of the flight deck designed for VSTOL Sea Harriers, which at that time were state-of-the-art combat platforms.

As designed, the ship was to carry five Sea Harriers and nine Sea King helicopters (six ASW variants and three transports).
Formato papel
[Sin existencias. Plazo de entrega breve]
PVP.

25,00€
Otros libros de Koszela, Witold
[En stock. Entrega en 24 / 48 horas]

PVP. 22,00€

[En stock. Entrega en 24 / 48 horas]

PVP. 52,00€

[En stock. Entrega en 24 / 48 horas]

PVP. 37,00€

[En stock. Entrega en 24 / 48 horas]

PVP. 13,00€

[Sin existencias. Plazo de entrega breve]

PVP. 22,30€

[En stock. Entrega en 24 / 48 horas]

PVP. 22,00€

[Sin existencias. Plazo de entrega breve]

PVP. 28,00€

[En stock. Entrega en 24 / 48 horas]

PVP. 26,00€

[Sin existencias. Plazo de entrega breve]

PVP. 49,50€

[Sin existencias. Plazo de entrega breve]

PVP. 28,00€

[En stock. Entrega en 24 / 48 horas]

PVP. 49,50€

[En stock. Entrega en 24 / 48 horas]

PVP. 26,50€

[Sin existencias. Plazo de entrega breve]

PVP. 28,00€

[Sin existencias. Plazo de entrega breve]

PVP. 20,00€