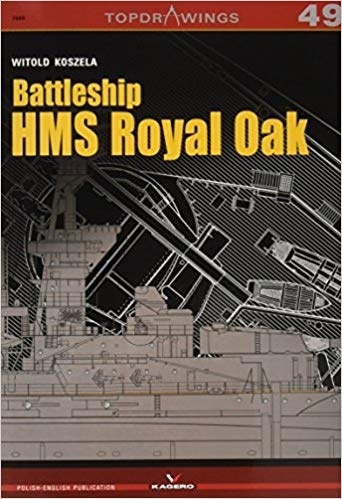 Formato papel
[En stock. Entrega en 24 / 48 horas]
PVP.

26,50€
Comenta y valora este libro
resumen
comentarios
índice
British battleship HMS Royal Oak secured place in the history books as unlikely hero - sunk as a result of one of the most famous naval operations of the World War II.
German submarine U-47, commanded by G. Prien, after undetected penetration into the Royal Navy Scapa Flow base, sent her down the bottom of the ocean together with the majority of her crew. This was one of the most painful losses of the British fleet during the war.
Royal Oak was one of five class "Revenge" vessels, better known as simple "R," battleships built throughout the World War I. Amongst her strong sides were very powerful main guns, quite good sailing abilities and interesting, "bulky" profile.

"R" battleships have not participated in many of the naval operations of the Great War, as for Royal Oak she took her part in the battle of Jutland.

Between the wars HMS Royal Oak was incorporated into the Atlantic Fleet and Home Fleet. She operated on the Mediterranean Sea during the Spanish Civil War.
Formato papel
[En stock. Entrega en 24 / 48 horas]
PVP.

26,50€
Otros libros de Koszela, Witold
[En stock. Entrega en 24 / 48 horas]

PVP. 22,00€

[En stock. Entrega en 24 / 48 horas]

PVP. 52,00€

[En stock. Entrega en 24 / 48 horas]

PVP. 37,00€

[En stock. Entrega en 24 / 48 horas]

PVP. 13,00€

[Sin existencias. Plazo de entrega breve]

PVP. 22,30€

[Sin existencias. Plazo de entrega breve]

PVP. 25,00€

[En stock. Entrega en 24 / 48 horas]

PVP. 22,00€

[Sin existencias. Plazo de entrega breve]

PVP. 28,00€

[En stock. Entrega en 24 / 48 horas]

PVP. 26,00€

[Sin existencias. Plazo de entrega breve]

PVP. 49,50€

[Sin existencias. Plazo de entrega breve]

PVP. 28,00€

[En stock. Entrega en 24 / 48 horas]

PVP. 49,50€

[Sin existencias. Plazo de entrega breve]

PVP. 28,00€

[Sin existencias. Plazo de entrega breve]

PVP. 20,00€