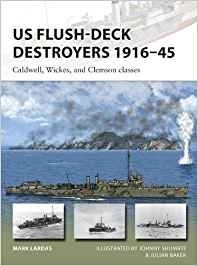 Formato papel
[En stock. Entrega en 24 / 48 horas]
PVP.

16,00€
Comenta y valora este libro
resumen
comentarios
índice
Four pipes and flush decks - these ships were a distinctively American destroyer design. Devised immediately prior to and during the United States' involvement in World War I they dominated the US Navy's destroyer forces all the way through to World War II.

They were deployed on North Atlantic and Norwegian Sea convoys, and virtually everywhere in the Pacific, from Alaska to Australia. Fifty were given to Great Britain in its hour of need in 1940, and many would serve in other navies, fighting under the Soviet, Canadian, Norwegian, and even the Imperial Japanese flags. They also served in a variety of roles becoming seaplane tenders, high-speed transports, minesweepers and minelayers. One was even used as a self-propelled mine during Operation Chariot, destroying the dry dock at St. Nazaire.

Fully illustrated throughout with commissioned artwork and contemporary photographs, this volume reveals the operational history of these US Navy ships that fought with distinction in both World Wars.
Formato papel
[En stock. Entrega en 24 / 48 horas]
PVP.

16,00€
Otros libros de Lardas, Mark
[En stock. Entrega en 24 / 48 horas]

PVP. 23,00€

[En stock. Entrega en 24 / 48 horas]

PVP. 23,00€

[Sin existencias. Plazo de entrega breve]

PVP. 17,00€

[En stock. Entrega en 24 / 48 horas]

PVP. 18,00€

[Sin existencias. Plazo de entrega breve]

PVP. 18,50€

[Sin existencias. Plazo de entrega breve]

PVP. 18,25€

[En stock. Entrega en 24 / 48 horas]

PVP. 18,00€

[En stock. Entrega en 24 / 48 horas]

PVP. 18,00€

[Sin existencias. Plazo de entrega breve]

PVP. 16,00€

[En stock. Entrega en 24 / 48 horas]

PVP. 22,00€

[En stock. Entrega en 24 / 48 horas]

PVP. 16,50€

[En stock. Entrega en 24 / 48 horas]

PVP. 20,00€

[En stock. Entrega en 24 / 48 horas]

PVP. 16,50€

[En stock. Entrega en 24 / 48 horas]

PVP. 15,50€

[En stock. Entrega en 24 / 48 horas]

PVP. 19,00€

[Sin existencias. Plazo de entrega breve]

PVP. 16,00€