Stress-free Sailing "Single and Short-handed Techniques"
Wells, Duncan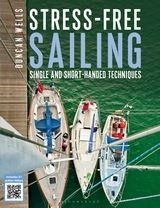 Formato papel
[En stock. Entrega en 24 / 48 horas]
PVP.

29,00€
Stress-free Sailing "Single and Short-handed Techniques"
Wells, Duncan
Comenta y valora este libro
resumen
comentarios
índice
By definition couples sailing alone have to do everything for themselves. They leave the berth, set the sails, helm the boat, navigate, trim the sails, anchor, pick up mooring buoys, enter harbour, moor up and all without the help of any extra crew. So they need to carry out these manoeuvres efficiently and effectively, with as little physical effort as possible.

Stress-free Sailing is the answer to single or short-handed crews' prayers a step-by-step handbook addressing the most common sailing situations that anyone cruising will have to manage. Here you will find clever, highly effective and successfully tried and tested shorthanded solutions for dealing with everything from getting off and then back onto the dock in a variety of wind and tide configurations, sail setting and reefing, mooring and anchoring, to sailing in heavy weather and new techniques for man overboard, all clearly illustrated with straightforward diagrams and sequence photos. 21 QR codes dotted throughout the book link to online video demonstrations to bring the techniques to life.

As single or short-handers you have to plan carefully, prepare properly and be able to anticipate. This book will be a godsend with its original techniques for coping in every situation.
Formato papel
[En stock. Entrega en 24 / 48 horas]
PVP.

29,00€
Otros libros de Wells, Duncan
[Sin existencias. Plazo de entrega breve]

PVP. 26,00€

[En stock. Entrega en 24 / 48 horas]

PVP. 16,00€

[En stock. Entrega en 24 / 48 horas]

PVP. 25,00€

[En stock. Entrega en 24 / 48 horas]

PVP. 28,00€