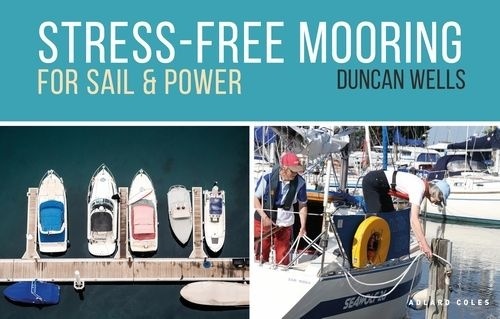 Formato papel
[En stock. Entrega en 24 / 48 horas]
PVP.

16,00€
Comenta y valora este libro
resumen
comentarios
índice
Stress-Free Mooring is a quick-access, extremely visual on-board practical guide to how to approach mooring and berthing situations in a yacht or motorboat.

Condensing material from the highly successful Stress-Free Sailing and Stress-Free Motorboating into a bite-sized book for easy reference, Duncan Wells provides instant guidance to helmsmen seeking to learn how best to get on and off pontoons, jetties and harbour walls in all directions of wind and tide, as well as anchoring and picking up mooring buoys. The techniques are applicable anywhere in the world, on any type and size of boat.

Areas covered include:
Tying knots and mastering other rope work
Adapting to different wind and tide configurations
Casting off from a dock
Springs, bridles and slipped lines
Coming alongside a berth
Rafting up with other boats
Anchoring
Picking up a mooring buoy

With step-by-step photos, explanatory diagrams and concise hints and tips, helmsmen can have at their fingertips the answers they need to all manner of mooring problems.
Formato papel
[En stock. Entrega en 24 / 48 horas]
PVP.

16,00€
Otros libros de Wells, Duncan
[Sin existencias. Plazo de entrega breve]

PVP. 26,00€

[En stock. Entrega en 24 / 48 horas]

PVP. 25,00€

[En stock. Entrega en 24 / 48 horas]

PVP. 28,00€

[En stock. Entrega en 24 / 48 horas]

PVP. 29,00€