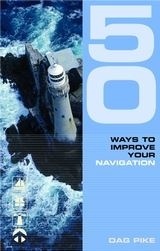 Formato papel
[Sin existencias. Plazo de entrega breve]
PVP.

16,00€
Comenta y valora este libro
resumen
comentarios
índice
This is a book about practical navigation - packed with practical ways to make navigation safer, easier and better. It is a book for anyone - whether driving a power boat or sailing a yacht. And the techniques cover both electronic as well as visual navigation.

This book starts where others finish. Once you have the important basics of navigation, you'll want to see how to translate these into practical navigation techniques to use when planning before going to sea and once you're out there.

50 Ways to Improve Your Navigation distils Dag Pike's experience gained from over 50 years of navigating a whole range of craft from high speed power boats and lifeboats to ships and sailing boats. Written by one of the most experienced navigators in the world, it is your passport to practical navigation techniques that will get you safely to your destination whether in fine weather or foul.
Formato papel
[Sin existencias. Plazo de entrega breve]
PVP.

16,00€
Otros libros de Pike, Dag
[En stock. Entrega en 24 / 48 horas]

PVP. 43,00€

[En stock. Entrega en 24 / 48 horas]

PVP. 39,50€

[Sin existencias. Plazo de entrega breve]

PVP. 34,00€

[Sin existencias. Plazo de entrega breve]

PVP. 35,00€

[Sin existencias. Plazo de entrega breve]

PVP. 18,00€

[En stock. Entrega en 24 / 48 horas]

PVP. 27,00€

[En stock. Entrega en 24 / 48 horas]

PVP. 28,00€

[Sin existencias. Plazo de entrega breve]

PVP. 32,00€

[En stock. Entrega en 24 / 48 horas]

PVP. 28,00€

[Sin existencias. Plazo de entrega breve]

PVP. 28,00€

[En stock. Entrega en 24 / 48 horas]

PVP. 24,50€

[En stock. Entrega en 24 / 48 horas]

PVP. 25,50€