The World's Greatest Submarines: An Illustrated History
Ross, David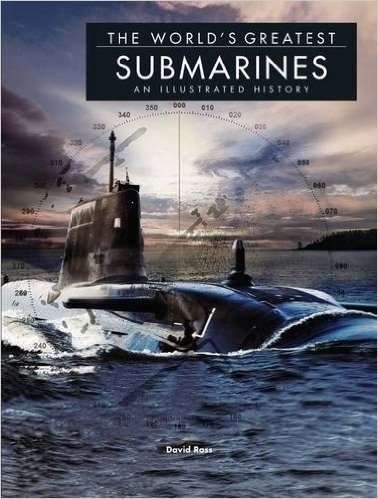 Formato papel
[Sin existencias. Plazo de entrega breve]
PVP.

27,00€
The World's Greatest Submarines: An Illustrated History
Ross, David
Comenta y valora este libro
FICHA TÉCNICA
Editorial: Amber Books
ISBN:

978-1-78274-421-4

Fecha de edición:

2016

Idioma:

Inglés

Encuadernación:

Tapa dura

Dimensiones: 0 cm x 0 cm

Nº páginas:

224

Materias: Marina militar

/

Submarinos

/
resumen
comentarios
índice
In 1776, American Patriots attempted to destroy the British flagship Eagle using a man-operated semi-submersible, the Turtle, in New York harbor. The attack failed, but the idea stuck. Almost 90 years later, the CSS Hunley successfully attacked the Federal sloop USS Housatonic by ramming into it with a 59-kilogram (130-pound) spar torpedo. The Housatonic became the first ship in naval history to be sunk by a submarine and so submarine warfare was born.

The World s Greatest Submarines features 52 of the most significant submarines built, from the German U-9 which sank three British cruisers in quick succession on 22 September 1914 through the USS Ray and huge Japanese I-400 class of World War II, to the great nuclear-powered submarines of the Cold War, such as the USS Los Angeles, Soviet Oscar class and HMS Resolution. Also included are the bronze-hulled Gustave Zede of 1893; the undersea cruiser Surcouf, which carried two 203mm (8 inch) guns on its deck; the highly successful Type VII U-boats deployed by the German Kriegsmarine against Allied shipping during World War II; and the latest attack and ballistic missile submarines, such as HMS Astute, USS Virginia, the Israeli Dolphin class, the Chinese Type 094, the INS Arihant and the Russian Yasen class.

Each entry includes a brief description of the submarine s development and history, a color profile view or cutaway, key features and specifications. Packed with more than 200 artworks and photographs, The World s Greatest Submarines is a colorful guide for the military and naval history enthusiasts."
Formato papel
[Sin existencias. Plazo de entrega breve]
PVP.

27,00€
Otros libros de Ross, David
[Sin existencias. Plazo de entrega breve]

PVP. 29,00€

[Sin existencias. Plazo de entrega breve]

PVP. 30,00€

[Sin existencias. Plazo de entrega breve]

PVP. 30,00€

[Sin existencias. Plazo de entrega breve]

PVP. 0,00€

[Sin existencias. Plazo de entrega breve]

PVP. 41,00€

[En stock. Entrega en 24 / 48 horas]

PVP. 19,95€

[Sin existencias. Plazo de entrega breve]

PVP. 37,00€