The Frigate Surprise "The Design, Construction and Career of Jack Aubrey's Favourite C"
Lavery, Brian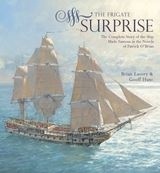 Formato papel
[Sin existencias. Plazo de entrega breve]
PVP.

145,00€
The Frigate Surprise "The Design, Construction and Career of Jack Aubrey's Favourite C"
Lavery, Brian
Comenta y valora este libro
resumen
comentarios
índice
This special edition of The Frigate Surprise is limited to only 250 copies. Each book is hand numbered and signed by Brian Lavery and Geoff Hunt, is bound in real cloth and is presented in an embossed real cloth slip-case. Moreover, we are pleased to offer a signed and numbered accompanying Geoff Hunt print free with every Limited Edition bought.

There is no more famous a vessel in naval fiction than HMS Surprise, the principal ship in Patrick O'Brian's much-celebrated Aubrey-Maturin series of sea stories. Yet, this 28-gun frigate also had a most eventful true historical career serving in both the French and then Royal navies and which included capture by the Inconstant in 1796 and the much celebrated cutting-out action on the mutinous crew of HMS Hermione. Surprise was decommissioned in 1802 and delivered into the fictional captaincy of Jack Aubrey.

This sumptuous new volume, written by acclaimed naval historian Brian Lavery, not only reveals the complete career history and commentary of HMS Surprise in both its guises, but also presents an all-embracing construction and fitting history of the Fifth Rate including some 30 line drawings as well as historical artworks and detailed photographs. The book is presented in full colour throughout and additionally includes a series of specially-commissioned sketches and some 30 paintings by co-author Geoff Hunt RSMA, the acclaimed artist of the Patrick O'Brian cover artworks and related prints. Geoff Hunt also contributes a most illuminating chapter on his experiences in, and challenges faced, when illustrating this ship. The detailed line and isometric plans are being drawn by prolific marine draughtsman Karl Heinz Marquardt.
Formato papel
[Sin existencias. Plazo de entrega breve]
PVP.

145,00€
Otros libros de Lavery, Brian
[En stock. Entrega en 24 / 48 horas]

PVP. 28,00€

[En stock. Entrega en 24 / 48 horas]

PVP. 18,75€

[Sin existencias. Plazo de entrega breve]

PVP. 22,00€

[En stock. Entrega en 24 / 48 horas]

PVP. 15,00€

[Sin existencias. Plazo de entrega breve]

PVP. 15,00€

[Sin existencias. Plazo de entrega breve]

PVP. 39,00€

[Sin existencias. Plazo de entrega breve]

PVP. 21,00€

[En stock. Entrega en 24 / 48 horas]

PVP. 39,90€

[Sin existencias. Plazo de entrega breve]

PVP. 60,00€

[Sin existencias. Plazo de entrega breve]

PVP. 45,00€

[Sin existencias. Plazo de entrega breve]

PVP. 28,50€