The Empire of the Seas. How the Navy Forged the Modern World
Lavery, Brian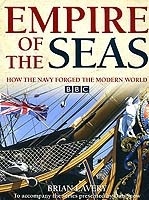 Formato papel
[Sin existencias. Plazo de entrega breve]
PVP.

28,50€
The Empire of the Seas. How the Navy Forged the Modern World
Lavery, Brian
Comenta y valora este libro
resumen
comentarios
índice
This book tells the story of how the navy expanded from a tiny force to become the most complex industrial enterprise on earth; how the need to organise it laid the foundations of the civil service and the economy; and how it transformed the English culture, their sense of national identity and their democracy.
Exploring deeper into the themes raised by the television series, Lavery documents the progress of the Royal Navy from late Tudor time to the First World War. He discusses its relantionship with the state and the British people, analysis the tactics and initiative that created dramatic victories, and the failures and incompetence that lead to disaster.
Rising through the administrative brilliance of Pepys, Anson and Lord Sandwich and the inspirational leadership of Blake, Hawke and Nelson, the Royal Navy became the most powerful force in the world. But the conviction of Britain's navy as undisputed ruler of the waves encouraged a sterility in strategic thinking and complacency during the 'long peace' of the 19th century leading to the bruising experience of the Battle of Jutland.
Formato papel
[Sin existencias. Plazo de entrega breve]
PVP.

28,50€
Otros libros de Lavery, Brian
[En stock. Entrega en 24 / 48 horas]

PVP. 28,00€

[En stock. Entrega en 24 / 48 horas]

PVP. 18,75€

[Sin existencias. Plazo de entrega breve]

PVP. 22,00€

[En stock. Entrega en 24 / 48 horas]

PVP. 15,00€

[Sin existencias. Plazo de entrega breve]

PVP. 15,00€

[Sin existencias. Plazo de entrega breve]

PVP. 39,00€

[Sin existencias. Plazo de entrega breve]

PVP. 21,00€

[En stock. Entrega en 24 / 48 horas]

PVP. 39,90€

[Sin existencias. Plazo de entrega breve]

PVP. 60,00€

[Sin existencias. Plazo de entrega breve]

PVP. 145,00€

[Sin existencias. Plazo de entrega breve]

PVP. 45,00€