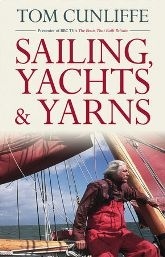 Formato papel
[Sin existencias. Plazo de entrega breve]
PVP.

19,90€
Comenta y valora este libro
FICHA TÉCNICA
Editorial: Wiley Nautical
ISBN:

978-1-119-99283-7

Fecha de edición:

2011

Idioma:

Castellano

Dimensiones: 0 cm x 0 cm

Nº páginas:

0

Materias: Navegación

/
resumen
comentarios
índice
Sailing, Yachts and Yarns is a treasure chest of nautical wit and wisdom. Tom Cunliffe has chosen the very best of his writing for Yachting Monthly magazine to ensure a lively mix of anecdote, opinion and instruction.

There are hilarious tales that take the reader on a voyage from the frozen waters of Greenland to the palm trees of the Tropics. Tom also shares the lessons learned navigating an engineless yacht across the Atlantic with only the stars to guide him and lets loose on the red tape and rules that he sees infringing on the freedom of the seas.

Tom has a gift for explaining the magic of sail and his writing is a marvelous antidote to mass market commercialism that threatens to engulf sailing. This is the perfect book for dipping into to discover another gem from one of greatest sailing writers alive today.
Formato papel
[Sin existencias. Plazo de entrega breve]
PVP.

19,90€
Otros libros de Cunliffe, Tom
[En stock. Entrega en 24 / 48 horas]

PVP. 26,00€

[En stock. Entrega en 24 / 48 horas]

PVP. 38,00€

[Sin existencias. Plazo de entrega breve]

PVP. 23,00€

[Sin existencias. Plazo de entrega breve]

PVP. 14,50€

[Sin existencias. Plazo de entrega breve]

PVP. 59,00€

[En stock. Entrega en 24 / 48 horas]

PVP. 38,00€

[Sin existencias. Plazo de entrega breve]

PVP. 36,50€

[Sin existencias. Plazo de entrega breve]

PVP. 47,00€

[Sin existencias. Plazo de entrega breve]

PVP. 31,00€

[En stock. Entrega en 24 / 48 horas]

PVP. 25,00€

[Sin existencias. Plazo de entrega breve]

PVP. 38,00€

[Sin existencias. Plazo de entrega breve]

PVP. 19,00€