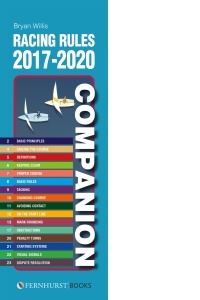 Formato papel
[Sin existencias. Plazo de entrega breve]
PVP.

15,00€
Comenta y valora este libro
resumen
comentarios
índice
An invaluable on-the-water reference to the essentials of the latest racing rules

Its splash-proof is tough enough to withstand a cockpit soaking and its spiral binding means it will stay open on a selected page on a chart table. A colour coded index allows you to instantly find what you are looking for. Clear illustrations ease understanding of the new rules that apply from 2017. Every aspect of the race is covered, from starts to sailing the course, propulsion, room at marks, three boat situations, penalty turns, signals, protests and appeals.

A proper understanding of the racing rules is crucial to success on the water and there is no better pocket guide to the latest rules. Bryan Willis has been chairman of the jury and chief umpire for some of the most prestigious sailing events in the world, including the America's Cup and Olympics. He has served on the International Sailing Federation (ISAF) Racing Rules Committee for over 25 years.
Formato papel
[Sin existencias. Plazo de entrega breve]
PVP.

15,00€
Otros libros de Willis, Bryan
[Sin existencias. Plazo de entrega breve]

PVP. 29,00€

[Sin existencias. Plazo de entrega breve]

PVP. 28,00€

[Sin existencias. Plazo de entrega breve]

PVP. 27,00€