HMS Pickle "the swiftest ship in Nelson's Trafalgar fleet"
Hore, Peter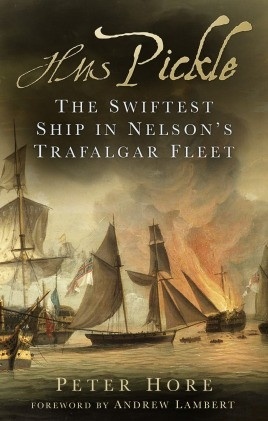 Formato papel
[En stock. Entrega en 24 / 48 horas]
PVP.

25,00€
HMS Pickle "the swiftest ship in Nelson's Trafalgar fleet"
Hore, Peter
Comenta y valora este libro
resumen
comentarios
índice
The smallest ship in Nelson's fleet at the Battle of Trafalgar was the curiously-named HMS Pickle. The ship was a topsail schooner and, though deemed too small to take park in the fighting it distinguished itself as the ship to bring Captain John Lapenotiere with the news of Nelson's victory at Trafalgar and his death. The schooner set off on October 26th and took 9 days to reach Britain after facing a gale off Cape Finisterre. After the Pickle anchored in Flamouth Bay on November 4th Lapenotiere starte his journey to London (a trip that usually took a week was covered in 37 hours with 19 horse changes). Captain Peter Hore describes the ship's beginnings as a civilian vessel called Sting, through conversion with 10 guns and its role with Admiral Cornwall's Inshore Squadron for French reconnaissance in 1803. HMS Pickle was also involved in the rescue for the crew of HMS Magnificent in 1804 and further reconnaissance missions. This full history details other colourful episodes including a single-ship action against the French privateer Favorite in 1807. Pickle was wrecked in July 1808 when she was grounded as she entered Cadiz harbour but without loss of life. The Pickle's journey is commemorated by Royal Navy Warrant Officers on November 5th.
Formato papel
[En stock. Entrega en 24 / 48 horas]
PVP.

25,00€
Otros libros de Hore, Peter
[Sin existencias. Plazo de entrega breve]

PVP. 28,00€

[Sin existencias. Plazo de entrega breve]

PVP. 25,00€