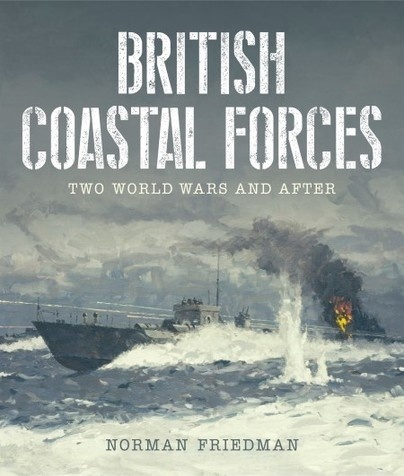 Formato papel
[Sin existencias. Plazo de entrega breve]
PVP.

65,00€
Comenta y valora este libro
resumen
comentarios
índice
The Royal Navy invented the fast motor torpedo boat during the First World War, and used it and other small coastal craft to great effect during the Second. This book tells the dramatic story of British coastal forces, both offensive and defensive, in both World Wars and beyond.

In the Second World War British coastal forces fought a desperate battle to control the narrow seas, particularly the Channel and the North Sea, and took the war to the coasts of German-occupied Europe, fighting where larger warships could not be risked. They also made a significant contribution to victory in the Mediterranean, but it was primarily warfare in home waters that shaped wartime British Coastal Forces and left lessons for postwar development.

In this book, Norman Friedman uniquely connects the technical story of the coastal craft and their weapons and other innovations with the way they fought. In both world wars much of the technology was at the edge of what was feasible at the time. Boats incorporated considerable British innovation and also benefited from important US contributions, particularly in supplying high-powered engines during World War II.

In contrast with larger warships, British coastal forces craft were essentially shaped by a few builders, and their part in the story is given full credit. They also built a large number of broadly similar craft for air-sea rescue, and for completeness these are described in an appendix.

This fascinating, dramatic story is also relevant to modern naval thinkers concerned with gaining or denying access to hostile shores. The technology has changed but the underlying realities have not. This book includes an extensive account of how coastal forces supported the biggest European example of seizing a defended shore, the Normandy invasion. That was by far the largest single British coastal forces operation, demanding a wide range of innovations to make it possible.

Like other books in this series, this one is based very heavily on contemporary official material, much of which has not been used previously like the extensive reports of US naval observers, who were allowed wide access to the Royal Navy as early as 1940. Combined with published memoirs, these sources offer a much more complete picture than has previously appeared of how Coastal Forces fought and of the way in which various pressures, both operational and industrial, shaped them.
Formato papel
[Sin existencias. Plazo de entrega breve]
PVP.

65,00€
Otros libros de Friedman, Norman
[En stock. Entrega en 24 / 48 horas]

PVP. 220,00€

[En stock. Entrega en 24 / 48 horas]

PVP. 36,00€

[Sin existencias. Plazo de entrega breve]

PVP. 81,00€

[En stock. Entrega en 24 / 48 horas]

PVP. 70,00€

[Sin existencias. Plazo de entrega breve]

PVP. 48,00€

[Sin existencias. Plazo de entrega breve]

PVP. 48,00€

[Sin existencias. Plazo de entrega breve]

PVP. 34,00€

[En stock. Entrega en 24 / 48 horas]

PVP. 68,00€

[Sin existencias. Plazo de entrega breve]

PVP. 53,00€

[Sin existencias. Plazo de entrega breve]

PVP. 61,00€

[Sin existencias. Plazo de entrega breve]

PVP. 37,00€

[Sin existencias. Plazo de entrega breve]

PVP. 65,00€

[Sin existencias. Plazo de entrega breve]

PVP. 75,00€