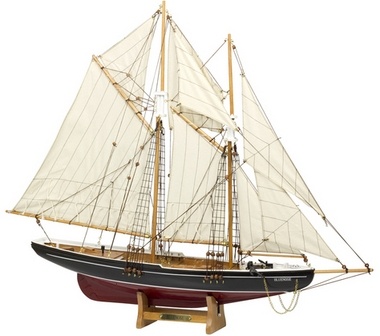 6687 Bluenose Yacht
Comenta y valora este libro
resumen
comentarios
índice
Bluenose was a Canadian fishing and racing schooner from Nova Scotia, built in 1921. She became a provincial icon for Nova Scotia as well as an important Canadian symbol in the 1930s.
The name bluenose' originated as a nickname for Nova Scotians from as early as the 18th century.

Length 31 ".

About Pond Yachts Precision-modelled in the style of Victorian pond yachts, this display yacht is nothing short of magnificent. It has a hollow hull, constructed entirely of wood, whilst on deck there are delightful details such as adjustable rigging blocks, sewn cotton sails, raised gunwales and brass fittings.
[En stock. Entrega en 24 / 48 horas]
PVP.

98,00€