USS Missouri (BB-63) "America s Last Battleship"
Doyle, David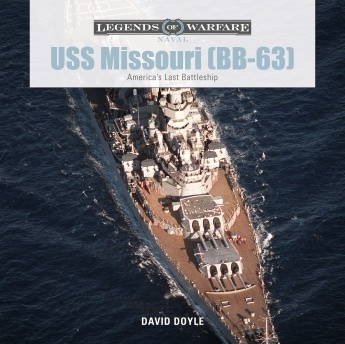 Formato papel
[Sin existencias. Plazo de entrega breve]
PVP.

25,00€
USS Missouri (BB-63) "America s Last Battleship"
Doyle, David
Comenta y valora este libro
resumen
comentarios
índice
The story of the USS Missouri, one of America's most famous warships of the twentieth century, and the world's last battleship, is told from her inception in 1940, through WWII kamikaze attacks, to her being the location of the Japanese surrender in Tokyo Bay, on September 2, 1945. Missouri's post-WWII activities are covered, from her transporting of the Truman family from South America, to her unfortunate grounding in the Chesapeake Bay, on to her return to combat, not only off Korea in 1950, but also the Persian Gulf in 1990 91. The story of this historic ship is presented through carefully researched photos, many of which have never before been published, and are reproduced in remarkable clarity. The story culminates in Missouri's current status as a museum in Pearl Harbor, Hawaii. Large, clear photos, coupled with descriptive and informative captions, puts the reader on the deck of this legendary American warship. Part of the Legends of Warfare series.
Formato papel
[Sin existencias. Plazo de entrega breve]
PVP.

25,00€
Otros libros de Doyle, David
[Sin existencias. Plazo de entrega breve]

PVP. 22,30€

[Sin existencias. Plazo de entrega breve]

PVP. 22,30€

[Sin existencias. Plazo de entrega breve]

PVP. 25,00€

[En stock. Entrega en 24 / 48 horas]

PVP. 25,00€

[Sin existencias. Plazo de entrega breve]

PVP. 25,00€

[En stock. Entrega en 24 / 48 horas]

PVP. 25,00€

[Sin existencias. Plazo de entrega breve]

PVP. 25,00€

[En stock. Entrega en 24 / 48 horas]

PVP. 25,00€

[Sin existencias. Plazo de entrega breve]

PVP. 25,00€

[Sin existencias. Plazo de entrega breve]

PVP. 25,00€

[Sin existencias. Plazo de entrega breve]

PVP. 28,00€

[Sin existencias. Plazo de entrega breve]

PVP. 28,00€

[Sin existencias. Plazo de entrega breve]

PVP. 25,00€

[Sin existencias. Plazo de entrega breve]

PVP. 25,00€

[Sin existencias. Plazo de entrega breve]

PVP. 29,00€

[Sin existencias. Plazo de entrega breve]

PVP. 29,00€