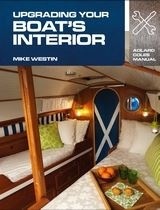 Formato papel
[En stock. Entrega en 24 / 48 horas]
PVP.

45,00€
Comenta y valora este libro
FICHA TÉCNICA
Editorial: Bloomsbury Publishing Plc
ISBN:

978-1-4081-3295-1

Fecha de edición:

2012

Nº edición:

1

Idioma:

Inglés

Encuadernación:

Rústica

Dimensiones: 246 cm x 189 cm

Nº páginas:

144
resumen
comentarios
índice
In this series of highly practical, step-by-step photographic manuals, Upgrading Your Boat's
Interior shows boatowners how to improve their boat's living space in terms of comfort, functionality and convenience.

After just a few years, cabins can all too often look tired, outdated and in desperate need of renovation. But it needn't cost the earth or even require the skills of an expert to revamp them. This book will help owners to regain a little of that 'new-boat' feeling, including:

- How to improve your basic facilities, from interior lighting to making your own fan
- Simple interior decorating ideas to personalise your onboard space
- Working with soft furnishings to create new bunk cushions and sprung mattresses
- Creating workable storage solutions
- Tackling major woodwork projects, including rebuilding a galley from scratch

Suitable for both motorboats and yachts, this invaluable guide is perfect for any boatowner willing to give it a try themselves. Each project lists equipment and a difficulty rating, and many projects are so simple that the whole family can get involved. With this book to hand, it has never been easier to bring your boat's living space into the 21st century.
Formato papel
[En stock. Entrega en 24 / 48 horas]
PVP.

45,00€
Otros libros de Westin, Mike
[En stock. Entrega en 24 / 48 horas]

PVP. 35,00€