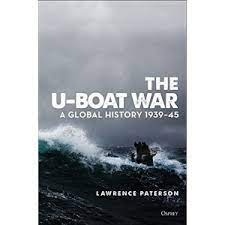 Formato papel
[En stock. Entrega en 24 / 48 horas]
PVP.

38,00€
Comenta y valora este libro
FICHA TÉCNICA
Editorial: Osprey Publishing
ISBN:

978-1-4728-4825-3

Fecha de edición:

2022

Nº edición:

1

Idioma:

Inglés

Encuadernación:

Cartoné

Dimensiones: 0 cm x 25 cm

Nº páginas:

336

Materias: Marina militar

/

Submarinos

/
resumen
comentarios
índice
A unique perspective of the global history of U-boats during the entirety of the Second World War by Lawrence Paterson, one of the world's leading U-boat experts.

The accepted historical narrative of the Second World War predominantly assigns U-boats to the so-called "Battle of the Atlantic," almost as if the struggle over convoys between the new world and the old can be viewed in isolation from simultaneous events on land and in the air. This has become an almost accepted error. The U-boats war did not exist solely between 1940 and 1943, nor did the Atlantic battle occur in seclusion from other theaters of action. The story of Germany's second U-boat war began on the first day of hostilities with Britain and France and ended with the final torpedo sinking on May 7, 1945. U-boats were active in nearly every theater of operation in which the Wehrmacht served, and within all but the Southern Ocean. Moreover, these deployments were not undertaken in isolation from one another; instead they were frequently interconnected in what became an increasingly inefficient German naval strategy.

This fascinating new book places each theater of action in which U-boats were deployed into the broader context of the Second World War in its entirety while also studying the interdependence of the various geographic deployments. It illustrates the U-boats' often direct relationship with land, sea and aerial campaigns of both the Allied and Axis powers, dispels certain accepted mythologies, and reveals how the ultimate failure of the U-boats stemmed as much from chaotic German military and industrial mismanagement as it did from Allied advances in code-breaking and weaponry.
Formato papel
[En stock. Entrega en 24 / 48 horas]
PVP.

38,00€
Otros libros de Paterson, Lawrence
[Sin existencias. Plazo de entrega breve]

PVP. 21,00€

[Sin existencias. Plazo de entrega breve]

PVP. 21,00€

[Sin existencias. Plazo de entrega breve]

PVP. 40,00€

[Sin existencias. Plazo de entrega breve]

PVP. 26,00€

[Sin existencias. Plazo de entrega breve]

PVP. 33,00€

[Sin existencias. Plazo de entrega breve]

PVP. 32,00€

[Sin existencias. Plazo de entrega breve]

PVP. 23,90€

[Sin existencias. Plazo de entrega breve]

PVP. 34,00€

[Sin existencias. Plazo de entrega breve]

PVP. 20,00€