Tugboats Illustrated "History, Technology, Seamanship"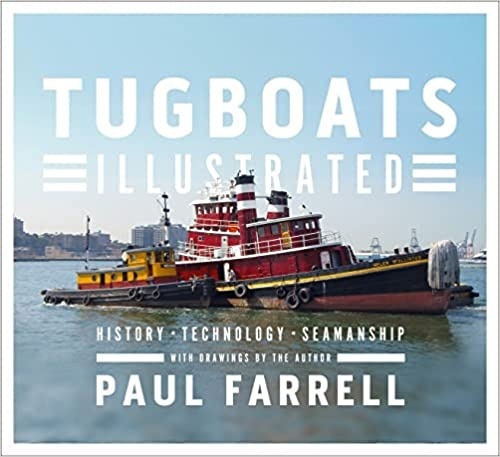 Formato papel
[Sin existencias. Plazo de entrega breve]
PVP.

52,00€
Tugboats Illustrated "History, Technology, Seamanship"
Comenta y valora este libro
FICHA TÉCNICA
Editorial: W. W. Norton & Company
ISBN:

978-0-393-06931-0

Fecha de edición:

2016

Nº edición:

1

Idioma:

Castellano

Encuadernación:

Cartón

Dimensiones: 0 cm x 0 cm

Nº páginas:

192

Materias: Navegación

/
resumen
comentarios
índice
From river to harbor to ocean, tugboats are among the most ubiquitous but underappreciated craft afloat. Whether maneuvering ships out from between tight harbor finger piers, pushing rafts of forty barges up the Mississippi, towing enormous oil rigs, or just delivering huge piles of gravel to a river port near you, tugs exude a sense of genial strength guided by the wise experience of their crews. We can admire the precision of their coordination, the determination in their movements, the glow of signal lights at night, silently communicating their condition and intentions to vessels nearby. It is nearly impossible not to be intrigued and impressed by the way tugs work.
In Tugboats Illustrated, Paul Farrell traces the evolution, design, and role of tugboats, ranging from the first steam-powered tug to today's hyper-specialized offshore workboats. Through extensive photographs, dynamic drawings, and enlightening diagrams, he explores the development of these hard-working boats, always shaped by the demands of their waterborne environment, by an ever-present element of danger, and by advancements in technology. Whether making impossible turns in small spaces, crashing through huge swells, pushing or pulling or prodding or coaxing or escorting, we come to understand not only what tugs do, but how physics and engineering allow them to do it.
From the deck layout of a nineteenth-century sidewheel tug to the mechanics of barge towingwhether by humans, mules, steam or diesel enginesto the advantages of various types and configurations of propulsion systems, to the operation of an oil rig anchor-handling tug/supply vessel, Tugboats Illustrated is a comprehensive tribute to these beloved workhorses of the sea and their intrepid crews.

Formato papel
[Sin existencias. Plazo de entrega breve]
PVP.

52,00€