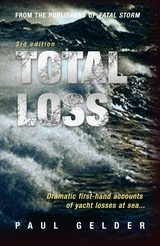 Formato papel
[En stock. Entrega en 24 / 48 horas]
PVP.

15,90€
Comenta y valora este libro
resumen
comentarios
índice
An enthralling collection of 45 dramatic stories of yachts lost at sea, Total Loss has been a consistent bestseller since first publication. This fascinating new edition carries exciting first-hand accounts, including the tragic sinking of the yacht Ouzo, run down or swamped by a P&O ferry in the English Channel, the loss of Hooligan V, the sinking of two boats in the Atlantic after rudder failure, and the rescue of Pete Goss and his crew from the giant catamaran Team Philips.

Here are tales of collisions with UFOs (unidentified floating objects), fire, explosion, exhaustion and crew failure, navigational blunders, capsize, gear failure, dismastings and severe storms. The moving, emotionally charged descriptions of shipwrecked sailors abandoning their yachts at sea will have you on the edge of your seat. But these accounts are more than just gripping tales of disaster - they carry valuable lessons which the survivors have been able to pass on to all who go to sea for pleasure.

Every year, hundreds of yachts are lost at sea. For those who wish to avoid a similar fate, or learn how best to cope with emergencies, this book is a compelling, thought-provoking bunkside read.
Formato papel
[En stock. Entrega en 24 / 48 horas]
PVP.

15,90€
Otros libros de Gelder, Paul
[En stock. Entrega en 24 / 48 horas]

PVP. 34,50€

[Sin existencias. Plazo de entrega breve]

PVP. 14,50€