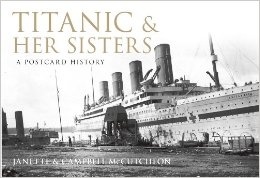 Formato papel
[Sin existencias. Plazo de entrega breve]
PVP.

28,50€
Comenta y valora este libro
resumen
comentarios
índice
In 1908, the White Star Line announced it was constructing a pair of sister ships at the Harland & Wolff yard in Belfast. The new behemoths would dwarf even the largest ships of the time, being fully one-third larger than any ship afloat. They would also be the most sumptuous vessels afloat, carrying their millionaire passengers in unsurpassed luxury. The two ships, Olympic and Titanic, were to be followed by a third sister, originally to be called Gigantic, but renamed as Britannic after the sinking of Titanic in April 1912.

Janette and Campbell McCutcheon tell the story of the White Star trio using a fabulous collection of original postcards and photos of the three sisters, only one of which was ever to make a return voyage from New York.

With the loss of Titanic in 1912, work was suspended on Britannic, but she was to sink on her sixth voyage as a hospital ship, during the First World War. Despite sinking a U-boat by ramming it, Olympic survived the war and was scrapped in Jarrow in 1935 after twenty-four years of service for White Star.
Formato papel
[Sin existencias. Plazo de entrega breve]
PVP.

28,50€