Thomas Stowage: The Properties and Storage of Cargoes, 8th Edition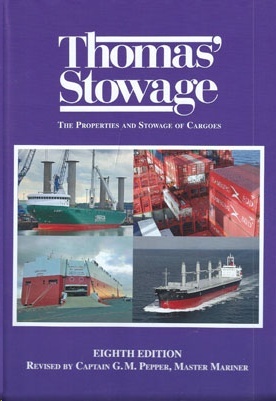 Formato papel
[Sin existencias. Plazo de entrega breve]
PVP.

150,00€
Thomas Stowage: The Properties and Storage of Cargoes, 8th Edition
Comenta y valora este libro
FICHA TÉCNICA
Editorial: Brown, Son and Ferguson, LTD.
ISBN:

978-1-84927-079-3

Fecha de edición:

2018

Idioma:

Castellano

Encuadernación:

Tapa dura

Dimensiones: 0 cm x 0 cm

Nº páginas:

0
resumen
comentarios
índice
n this eighth edition of Thomas' Stowage revisions will be found in all parts of the book, including the 2018 changes to the IMSBC Code.

Part 3 is now in two sections, with Part 3A covering general commodities while Part 3B covers dry bulk commodities. This has come about firstly because new editions of the IMSBC Code invariably include a number of new commodities, and secondly because separating bulk cargoes from general cargoes simplifies the use of the book.

The symbols used in Part 3B have been supplemented with the addition of a new symbol for cargoes Liable to Liquefaction'. The meaning and use of each symbol relating to bulk cargoes has also been more fully explained. The rationalisation of Part 3A entries has continued, and it is recommended that the point of entry to find a particular commodity in either Part 3A or 3B should be the Index, where not only commonly-used names but also less frequently used names perhaps of local derivation for the same commodity will be found, with the reader being referred to the appropriate listed item.

A major change in this edition is the inclusion of a new Appendix, A Glossary of Cargo Handling and Shipping Terms. The terms have been obtained from a variety of sources and suggestions for further entries or amendments will be most welcome.

Thomas' Stowage continues to be regarded as the definitive reference on the subject and is recommended by many organisations with an interest in the safe handling and carriage of cargoes.
Formato papel
[Sin existencias. Plazo de entrega breve]
PVP.

150,00€