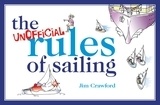 Formato papel
[En stock. Entrega en 24 / 48 horas]
PVP.

17,00€
Comenta y valora este libro
resumen
comentarios
índice
If you can't break the rules, you might as well laugh at them.



This lighthearted look at the various rules that govern the world of
sailing is for anyone who's come down on the wrong side of the race
committee, anyone who's broken into a sweat just reading the COLREGS,
and anyone who thinks bureaucracy saps all the fun out of boating.



Jim Crawford turns a humorous eye on right-of-way rules, racing
rules, sailing etiquette and more in this witty collection of sardonic
cartoons that will have you laughing or groaning - or both.
Formato papel
[En stock. Entrega en 24 / 48 horas]
PVP.

17,00€