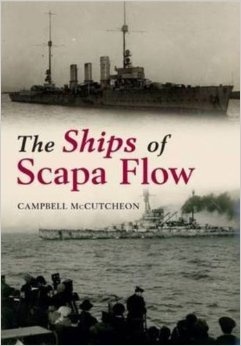 Formato papel
[En stock. Entrega en 24 / 48 horas]
PVP.

22,00€
Comenta y valora este libro
resumen
comentarios
índice
Home to the British Home Fleet during the First World War, Scapa Flow was also where the surrendered German Navy was scuttled in 1919. Many ships were salvaged but some twelve still remain and are dived on. In 1939, the Royal Oak was spectacularly sunk by Gunter Prien and is now a war grave. Campbell McCutcheon tells the story of the ships of Scapa Flow.

Scapa Flow was an ideal home base for the British Home Fleet – commanding approaches from both the Atlantic and North Sea and was heavily used by the British during the First World War, as its naval base, and home for a series of dummy battleships in both world wars. At the end of the First World War, the German fleet surrendered and was interred at Scapa, and then scuttled in June 1919, just a day or so before the Armistice was signed. During the 1920s and 1930s, over sixty of the German ships were raised.

During the Second World War, a daring raid by Gunter Prien saw the loss of the Royal Oak in October 1939, with some 800 casualties, and the subsequent sinking of a series of blockships to ensure the security of the natural harbor. Campbell McCutcheon illustrates the story of Scapa Flow with some 150 images of the harbor and the ships that made it famous, showing them in peace and war, and the salvage of the German fleet.
Formato papel
[En stock. Entrega en 24 / 48 horas]
PVP.

22,00€