The Sea Wolf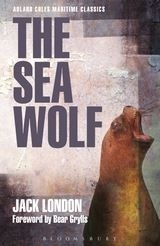 Formato papel
[Sin existencias. Plazo de entrega breve]
PVP.

14,00€
The Sea Wolf
Comenta y valora este libro
resumen
comentarios
índice
Set adrift after a collision with another vessel, ferry passenger Humphrey van Weyden is picked up by the seal-hunting schooner the Ghost. His relief at being rescued slowly turns into concern once he meets her captain, the brutally terrifying Wolf Larsen. The crew of the Ghost live in terror of their fearsome commander, and van Weyden is not made any safer because Larsen is attracted to his new passenger's comparable intelligence.

Van Weyden's time aboard the Ghost turns him from a gentle, domesticated man into an altogether tougher soul as he is caught between Larsen and his crew during the rescue of other castaways, an attempted mutiny, a cataclysmic storm and the appearance of Wolf's equally terrible brother, Death Larsen.

Wolf Larsen is one of the greatest characters in early 20th century American fiction. Like Captain Ahab before him, he is a man who has spent too long at sea. We might assume he has become inhuman, but the novel gradually but subtly reveals that it was the nature of life at the mercy of the angry oceans that turned him into the sea wolf.

This special edition includes an exclusive Foreword by adventurer Bear Grylls, which takes a fascinating look at the character of Wolf Larsen from the perspective of someone who has also stared nature in its unforgiving face.
Formato papel
[Sin existencias. Plazo de entrega breve]
PVP.

14,00€