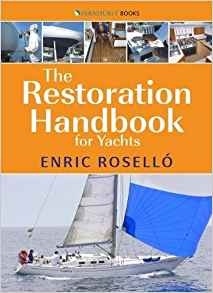 Formato papel
[En stock. Entrega en 24 / 48 horas]
PVP.

35,00€
Comenta y valora este libro
FICHA TÉCNICA
Editorial: Fernhurst Books Limited
ISBN:

978-1-912177-13-4

Fecha de edición:

2018

Idioma:

Inglés

Encuadernación:

Rústica

Dimensiones: 0 cm x 0 cm

Nº páginas:

262
resumen
comentarios
índice
The essential guide to fibreglass yacht restoration and repair.
A thoroughly practical manual on how to give a fibreglass cruising yacht a complete overhaul or to do specific restoration tasks. Filled with hundreds of colour photo-sequences, which detail how to replace the engine, hatches, electrics, plumbing, rigging, gelcoat and much more. Practical advice on when to call in the professionals and when to consider doing work yourself.
The Restoration Handbook appeals equally to sailors and boat owners who want to overhaul a boat completely and to those who have one or two smaller jobs to do. Although the whole boat is covered, each section is broken down into manageable chunks. Readers can work their way through each job using the clear sequential photographs for step-by-step guidance.
Formato papel
[En stock. Entrega en 24 / 48 horas]
PVP.

35,00€
Otros libros de Rosello, Enric
[En stock. Entrega en 24 / 48 horas]

PVP. 44,00€