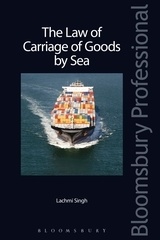 Formato papel
[Sin existencias. Plazo de entrega breve]
PVP.

69,50€
Comenta y valora este libro
resumen
comentarios
índice
This new title provides a comprehensive overview and insight into the legal aspects of sea carriage and its surrounding issues. The book will enable students, both new to the subject, as well as those seeking to advance their knowledge, to better understand the often technical and complicated nature of the law in this area.

Includes relevant case excerpts, statutory materials, exam and coursework related questions and diagrams to aid understanding of the subject.

Material covered includes: a general introduction; bills of lading; charterparties; international and domestic regulations; rights and obligations of the parties under a contract of carriage; limitations of liability; and remedies.
Formato papel
[Sin existencias. Plazo de entrega breve]
PVP.

69,50€