The Great Ocean "Pacific Worlds from Captain Cook to the Gold Rush"
Igler, David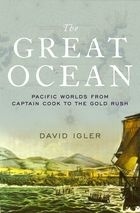 Formato papel
[Sin existencias. Plazo de entrega breve]
PVP.

0,00€
The Great Ocean "Pacific Worlds from Captain Cook to the Gold Rush"
Igler, David
Comenta y valora este libro
resumen
comentarios
índice
The Great Ocean examines the convergence and fragmentation of Pacific worlds during a period of rapidly expanding trade, indigenous depopulation, and scientific investigations. With a particular focus on the eastern Pacific in the decades between the 1770s and the 1840s, this study uncovers world history in the coastal localities where voyagers, traders, hunters, and native peoples met one another through episodes often marked by violence and tragic outcomes.

Igler reveals a vast oceanic and coastal geography that gradually became entangled with global circuits. Rather than a single ocean world, this study demonstrates how the eastern Pacific encompassed a variety of seas and a multiplicity of human communities. At the same time, The Great Ocean situates this story in the personal and intimate interactions of different groups, including indigenous <"ocean peoples,>" mainland native groups, and a diverse assortment of foreign voyagers.

This story poignantly presents the individuals and the themes they embody. The American William Shaler sought wealth through trans-Pacific trade with China. Indigenous communities struggled against introduced diseases that cut through the heart of their communities. The Russian Timofei Tarakanov desired freedom from his ordeal in captivity. Mary Brewster longed for a cargo of whale oil and a safe voyage home. Kadu desired to see more of the ocean, while his European companion Adelbert von Chamisso carefully compiled his notes on natural history. Finally, James Dwight Dana pursued knowledge of the largest scale, including the origins of the earth. Their stories-and the historical themes that tie them together-offers a stunning perspective on the oceanic worlds of the eastern Pacific.

Ambitious and broadly conceived, this is the first study of its kind to examine the Pacific Basin through the intersection of American, oceanic, and world history.
Formato papel
[Sin existencias. Plazo de entrega breve]
PVP.

0,00€