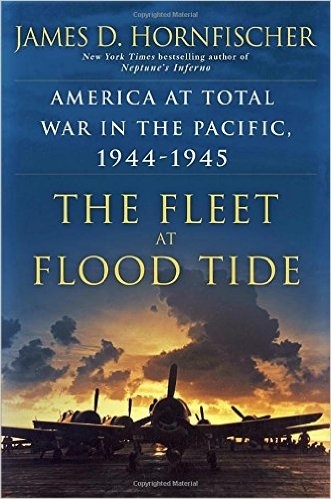 Formato papel
[Sin existencias. Plazo de entrega breve]
PVP.

39,00€
Comenta y valora este libro
resumen
comentarios
índice
From the award-winning historian who has been acclaimed as "doing for the Navy what popular historian Stephen Ambrose did for the Army," here is an unprecedented account of the extraordinary World War II air, land, and sea campaign that brought the U.S. Navy to the apex of its strength and marked the rise of the United States as a global superpower.
Drawing on new primary sources and personal accounts by Americans and Japanese alike, The Fleet at Flood Tide is a thrilling narrative of the climactic end stage of the Pacific War, focusing on the U.S. invasion of the Mariana Islands in June 1944 and the momentous events that it produced.
With its thunderous assault into Japan's inner defensive perimeter, America crossed the threshold of total war. From the seaborne invasion of Saipan to the stunning aerial battles of the Great Marianas Turkey Shoot, from the largest banzai attack of the war to the first mass suicides of Japanese civilians to the strategic bombing effort that culminated at Hiroshima and Nagasaki, the Marianas became the fulcrum of the drive to compel Tokyo to surrender--with consequences that forever changed modern war.
These unprecedented operations saw the first large-scale use of Navy underwater demolition teams; a revolution in the fleet's ability to sustain cross-hemispheric expeditionary warfare; the struggle of American troops facing not only a suicidal enemy garrison, but desperate Japanese civilians; and the rise of the U.S. Navy as the greatest of grand fleets. From the Marianas, B-29 Superfortresses would finally unleash nuclear fire on an enemy resolved to fight to the end.
Hornfischer casts this clash of nations and cultures with cinematic scope and penetrating insight. Focusing closely on people who rose to challenging events, he shows us Raymond Spruance, the brilliant, coolly calculating commander of the Fifth Fleet; Kelly Turner, whose amphibious forces delivered Marine General "Howlin' Mad" Smith's troops to the beaches of Saipan and Tinian; Draper Kauffman, founder of the Navy unit that predated today's SEALs; Paul Tibbets, the creator of history's first atomic striking force, who flew the Enola Gay to Hiroshima; and Japanese warriors and civilians who saw the specter of defeat as the ultimate test of the spirit.
From the seas of the Central Pacific to the shores of Japan itself, The Fleet at Flood Tide is a stirring and deeply humane account of World War II's world-changing finale.
Formato papel
[Sin existencias. Plazo de entrega breve]
PVP.

39,00€
Otros libros de Hornfischer, James D.
[Sin existencias. Plazo de entrega breve]

PVP. 23,00€