The Elements of Boat Strength "For Builders, Designers, and Owners"
Gerr, Dave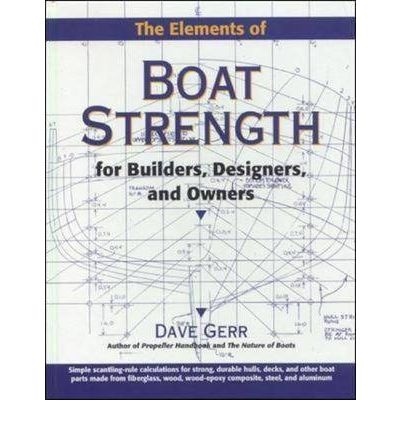 Formato papel
[Sin existencias. Plazo de entrega breve]
PVP.

61,00€
The Elements of Boat Strength "For Builders, Designers, and Owners"
Gerr, Dave
Comenta y valora este libro
FICHA TÉCNICA
Editorial: McGraw-Hill
ISBN:

978-0-07-023159-7

Idioma:

Inglés

Encuadernación:

Rústica
resumen
comentarios
índice
'This work is significant. It is the first to include a method of assessing structural strength in the context of the modern marine environment' -Commander M. C. Cruder, "U.S. Coast Guard". Acclaimed author and naval architect, Dave Gerr created this unique system of easy-to-use scantling rules and rules-of-thumb for calculating the necessary dimensions, or scantlings, of hulls, decks, and other boat parts, whether built of fiberglass, wood, wood-epoxy composite, steel, or aluminum. In addition to the rules themselves, "The Elements of Boat Strength" offers their context: an in-depth, plain-English discussion of boatbuilding materials, methods, and practices that will guide you through all aspects of boat construction.Now you can avoid wading through dense technical engineering manuals or tackling advanced mathematics. "The Elements of Boat Strength" has all the formulas, tables, illustrations, and charts you need to judge how heavy each piece of your boat should be in order to last and be safe. With this book, an inexpensive scientific calculator, and a pad of paper, you'll be able to design and specify all the components necessary to build a sound, long-lasting, rugged vessel.What reviewers have said about Dave Gerr's books: 'By far the best book available on the subject' - Sailing". 'The best layman's guide we've ever read' - "Practical Sailor". 'Dave Gerr and International Marine made a complicated topic understandable and put it into a handbook that is easy to use' - "WoodenBoat". 'Without doubt the definitive reference for selecting, installing, and understanding boat propellers' - "Royal Navy Sailing Association Journal" The Nature of Boats. 'If you are not nautically obsessed before reading this book, you will most certainly be afterward' - "Sailing". 'Fascinating potpourri of information about today's boats, modern and traditional' - "WoodenBoat".
Formato papel
[Sin existencias. Plazo de entrega breve]
PVP.

61,00€