The Cruising Almanac 2022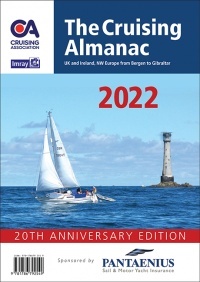 Formato papel
[Sin existencias. Plazo de entrega breve]
PVP.

52,00€
The Cruising Almanac 2022
Comenta y valora este libro
resumen
comentarios
índice
The Cruising Almanac has long been the perfect onboard companion for cruising sailors. It was first published in 1909 as Sailing Directions within the Cruising Association Handbook. Almost a century later, in 2002, it became the Cruising Almanac, published by Imray, that we all recognise today. This 2022 edition, introduced by Sir Robin Knox-Johnston, CBE, Patron of the Cruising Association, marks the 20th Anniversary of the partnership between the Cruising Association and Imray.

Compiled annually by a team of Cruising Association editors and Imray, the Almanac covers Northwest Europe from the Shetlands in the north to Gibraltar in the south and from the Baltic in the east to the west coast of Ireland. Based on first-hand experience and official data, all the content, including text, plans and tidal data, is checked and updated for each new edition. Over 750 port entries sit alongside readily identifiable blue boxed passage notes, enabling easy access to the information you need, both for passage planning and whilst at sea.

2022 tide tables for 47 standard ports are included in a separate booklet. The main Almanac contains tidal stream diagrams: full tidal details for secondary ports are included with the text for the relevant port.

Updating of the Almanac continues throughout the year, with corrections published monthly on the Cruising Association website Almanac corrections page.
Formato papel
[Sin existencias. Plazo de entrega breve]
PVP.

52,00€