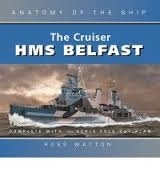 Formato papel
[Sin existencias. Plazo de entrega breve]
PVP.

0,00€
Comenta y valora este libro
resumen
comentarios
índice
This volume features a full description of one of Britain's historic preserved ships
A veteran of the battle of North Cape in 1943
Over 100 perspective and 3-view drawings

HMS Belfast was the largest British cruiser of the Second World War and saw distinguished service throughout the conflict, including playing a major part in the destruction of the German battlecruiser Scharnhorst. Today she is preserved as an historic monument on the River Thames in London.

The Anatomy of the Ship' series aims to provide the finest documentation of individual ships and ship types ever published. What makes the series unique is a complete set of superbly executed line drawings, both the conventional type of plan as well as explanatory views, with fully descriptive keys. These are supported by technical details and a record of the ship's service history.
Formato papel
[Sin existencias. Plazo de entrega breve]
PVP.

0,00€