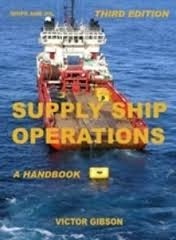 Formato papel
[Sin existencias. Plazo de entrega breve]
PVP.

35,39€
Comenta y valora este libro
FICHA TÉCNICA
Editorial: La Madrila Press
ISBN:

978-0-9577002-1-5

Fecha de edición:

2009

Idioma:

Inglés

Encuadernación:

Rústica

Dimensiones: 0 cm x 24 cm

Nº páginas:

288
resumen
comentarios
índice
The third edition of Supply Ship Operations considers the changes in the working environment and the ships doing the job, since the first edition was published in 1991. It contains practical guidance on many of the activities undertaken by anchor-handlers and platform ships.

Retained are chapters on ship-handling, the carriage of cargo, working with semi-submersibles and jack-ups, towing and emergencies, and there are new chapters on operations, accidents and safety. The text is supported by 100 colour photos and 15 diagrams and is intended primarily to assist those entering the supply vessel business at all levels.

Victor Gibson is a former supply vessel master, marine consultant and safety case practitioner. He now lives in Spain from where he writes on a variety of topics and manages a website which offers world wide support vessel images and information.
Formato papel
[Sin existencias. Plazo de entrega breve]
PVP.

35,39€
Otros libros de Gibson, Victor
[Sin existencias. Plazo de entrega breve]

PVP. 48,00€