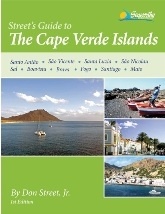 Formato papel
[Sin existencias. Plazo de entrega breve]
PVP.

49,00€
Comenta y valora este libro
resumen
comentarios
índice
Street's Guide to the Cape Verde Islands was printed in 2011 it is a completely up-to-date, full-colour guide that includes charts and sketches not available through any other source, as well as GPS waypoints, harbour and marina information, local knowledge and much more.
Formato papel
[Sin existencias. Plazo de entrega breve]
PVP.

49,00€
Otros libros de Street, Donald M.
[Sin existencias. Plazo de entrega breve]

PVP. 35,00€

[En stock. Entrega en 24 / 48 horas]

PVP. 42,00€

[En stock. Entrega en 24 / 48 horas]

PVP. 40,04€