Spanish Warships in the Age of Sail, 1700-1860 "Design, Construction, Careers and Fates"
Winfield, Rif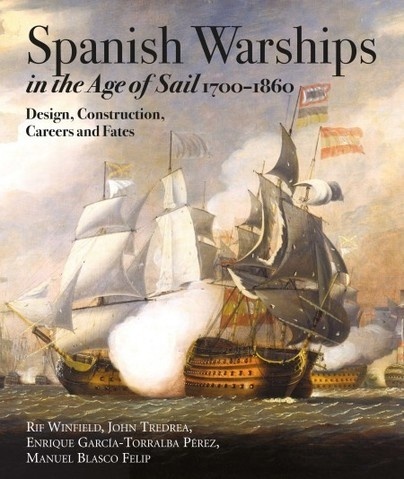 Formato papel
[En stock. Entrega en 24 / 48 horas]
PVP.

70,00€
Spanish Warships in the Age of Sail, 1700-1860 "Design, Construction, Careers and Fates"
Winfield, Rif
Comenta y valora este libro
resumen
comentarios
índice
This book is the latest contribution to a unique series in a common format documenting in great detail the warships of the major naval powers during the age of sail. To date, four volumes have covered the British Navy, two have been devoted to the French Navy and one each to the Dutch and Russian Navies. This volume on the Spanish Navy, for much of its history the third largest in the world, fills the final gap in the ranks of the major maritime powers.

This book is the first comprehensive listing of these ships in English and covers the development of all the naval vessels owned or deployed by Spain during the period of the Bourbon monarchy from 1700 to 1860 (including the period of French control during the Napoleonic Wars), but it also sets the scene for that period by summarising the origins of Spanish naval development under the preceding Habsburg regime.

As with previous volumes in the series, the main chapters list all the naval vessels from 1700 onwards (including those 16th century ships which survived into the new regime in 1700) by type, with the first chapters listing the ships of the line (navíos in Spanish terminology) and frigates in descending order of firepower, and subsequent chapters covering minor and ancillary vessels. Where available, a brief service history of each individual ship is given.

A comprehensive introductory section includes a group of background essays designed to provide the reader with a deep understanding of how Spanish naval forces operated, and the context within which they were organised.

Certain to become the standard English-language reference work, its publication is of the utmost importance to every naval historian and general reader interested in the navies of the sailing era.
Formato papel
[En stock. Entrega en 24 / 48 horas]
PVP.

70,00€
Otros libros de Winfield, Rif
[En stock. Entrega en 24 / 48 horas]

PVP. 75,00€

[Sin existencias. Plazo de entrega breve]

PVP. 59,00€