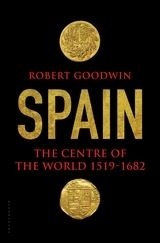 Formato papel
[Sin existencias. Plazo de entrega breve]
PVP.

40,00€
Comenta y valora este libro
FICHA TÉCNICA
Editorial: Bloomsbury Publishing Plc
ISBN:

978-1-62040-360-0

Fecha de edición:

2015

Idioma:

Inglés

Encuadernación:

Tapa dura

Dimensiones: 0 cm x 24 cm

Nº páginas:

608
resumen
comentarios
índice
The Golden Age of the Spanish Empire would establish five centuries of Western supremacy across the globe and usher in an era of transatlantic exploration that eventually gave rise to the modern world. It was a time of discovery and adventure, of great political and social change--it was a time when Spain learned to rule the world.

Assembling a spectacular cast of legendary characters like the Duke of Alba, El Greco, Miguel de Cervantes, and Diego Velázquez, Robert Goodwin brings the Spanish Golden Age to life with the vivid clarity and gripping narrative of an epic novel. From scholars and playwrights, to poets and soldiers, Goodwin is in complete command of the history of this tumultuous and exciting period. But the superstars alone will not tell the whole tale--Goodwin delves deep to find previously unrecorded sources and accounts of how Spain's Golden Age would unfold, and ultimately, unravel.

Spain is a sweeping and revealing portrait of Spain at the height of its power and a world at the dawn of the modern age.
Formato papel
[Sin existencias. Plazo de entrega breve]
PVP.

40,00€
Otros libros de Goodwin, Peter
[Sin existencias. Plazo de entrega breve]

PVP. 18,90€

[Sin existencias. Plazo de entrega breve]

PVP. 35,00€

[Sin existencias. Plazo de entrega breve]

PVP. 23,00€