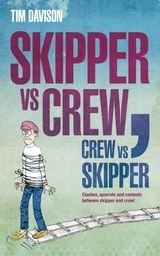 Formato papel
[Sin existencias. Plazo de entrega breve]
PVP.

12,50€
Comenta y valora este libro
resumen
comentarios
índice
Skippers and crew have very different agenda, and nowhere does it become more evident than in their secret innermost - but not very often expressed - thoughts about the other.

This brilliantly original humour giftbook has two beginnings. Opened one way it sends up skippers (from the crew's point of view). Flipped over and opened the other way it sends up crew instead (from the skipper's perspective). Bringing into play all the scenarios that cause stress, hilarity, scorn, angst and difficulty on a boat, when both sides co-exist in close proximity, this is a tongue in cheek send-up of each side that the other will heartily relate to and endorse. Cartoons help bring to life the inherent humour of the relationships between skippers and their crews.

This is a book with universal humour which will travel everywhere there are crews at the mercy of slave-driving or incompetent skippers or skippers cursed with lazy or imbecilic crew.
Formato papel
[Sin existencias. Plazo de entrega breve]
PVP.

12,50€
Otros libros de Davison, Tim
[En stock. Entrega en 24 / 48 horas]

PVP. 35,00€

[Sin existencias. Plazo de entrega breve]

PVP. 13,45€

[Sin existencias. Plazo de entrega breve]

PVP. 23,00€

[Sin existencias. Plazo de entrega breve]

PVP. 18,00€

[En stock. Entrega en 24 / 48 horas]

PVP. 21,00€

[En stock. Entrega en 24 / 48 horas]

PVP. 20,90€