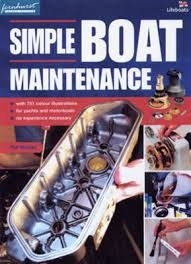 Formato papel
[Sin existencias. Plazo de entrega breve]
PVP.

35,00€
Comenta y valora este libro
FICHA TÉCNICA
Editorial: Wiley
ISBN:

978-1-904475-02-6

Fecha de edición:

2005

Idioma:

Inglés

Encuadernación:

Tapa dura

Nº páginas:

160
resumen
comentarios
índice
This book welcomes you to the world of boat maintenance. Take this book in one hand, a spanner in the other and set to work.

It concentrates on the 67 most common jobs. Each is rated for difficulty on a scale of 1-5, explained in simple steps and illustrated with fantastic colour photos and diagrams. No special tools are required and no skill is assumed.

You will learn how to solve most engine problems, look after the gas, water, fuel and electrical systems, service pumps, winches, windlasses and sterngear, repair cracks and holes in fibreglass and find and cure leaks.
Formato papel
[Sin existencias. Plazo de entrega breve]
PVP.

35,00€
Otros libros de Manley, Pat
[En stock. Entrega en 24 / 48 horas]

PVP. 29,00€

[En stock. Entrega en 24 / 48 horas]

PVP. 32,00€

[Sin existencias. Plazo de entrega breve]

PVP. 35,00€