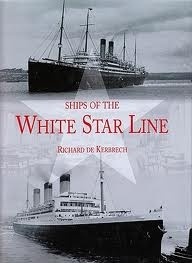 Formato papel
[Sin existencias. Plazo de entrega breve]
PVP.

31,50€
Comenta y valora este libro
FICHA TÉCNICA
Editorial: Ian Allan
ISBN:

978-0-7110-3366-5

Fecha de edición:

2009

Idioma:

Castellano

Encuadernación:

Tapa dura

Dimensiones: 0 cm x 30 cm

Nº páginas:

240
resumen
comentarios
índice
The White Star Line was one of the most illustrious and controversial names in the history of passenger shipping. Its origins lay in Liverpool in the early 19th century, chartering sailing ships to Australia, but financial difficulties led to its takeover by Thomas Ismay in the 1860s. He was the founding father of the Oceanic Steam Navigation Company, the official name of the White Star Line. Despite a number of disasters with heavy loss of life, the company grew quickly to dominate the North Atlantic route, with famous ships such as Britannic and Germanic taking the Blue Riband for the fastest crossing several times in the late 19th century.
At the turn of the century the company established an unrivaled standard of luxury in its new quartet of ships known as the Big Four, which led to the construction of the Olympic Class, which included Titanic. Despite the sinking of the Titanic in 1912, the Olympic had a long and successful career as the flagship of the White Star Line before the financial pressures of the Depression in the 1930s forced the merger of White Star with its rival Cunard.

Ships of the White Star Line is the fruit of years of research by maritime historian Richard de Kerbrech. In it he tells the story of the company through all 89 ships that served the shipping line, each of which is illustrated with photographs, along with detailed technical information and vivid accounts of voyages and incidents.
Formato papel
[Sin existencias. Plazo de entrega breve]
PVP.

31,50€
Otros libros de Kerbrech, Richard de
[En stock. Entrega en 24 / 48 horas]

PVP. 28,00€