Secret Projects of the Kriegsmarine : Unseen Designs of Nazi Germany's Navy
Sgarlato, Nico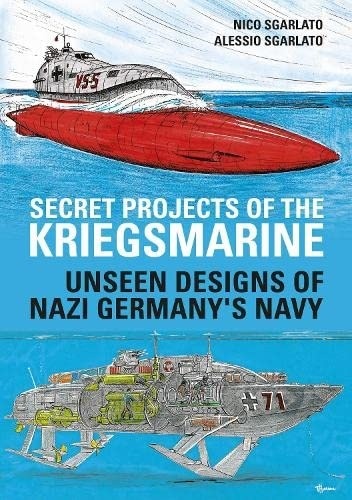 Formato papel
[Sin existencias. Plazo de entrega breve]
PVP.

29,00€
Secret Projects of the Kriegsmarine : Unseen Designs of Nazi Germany's Navy
Sgarlato, Nico
Comenta y valora este libro
resumen
comentarios
índice
The Secret Projects of the German Kriegsmarine in World War II gives a comprehensive overview of advanced German naval building, and excitingly includes previously unseen, secret projects. This book is relatively short, yet densely packed with historical naval insight. It will thus appeal to the busy reader interested in boat modelling, or indeed anyone who is fascinated with naval warfare. The designs covered by the title are wide-ranging, from U-boats and hydrofoils, to submarines, explosive motorboats and even aircraft carriers.

Not simply presenting information on functioning prototypes, this book highlights a number of theoretical projects for hydrofoils, landing craft and heavy surface units, among many others. Also included are technical examinations of the 'Z-Plan' Kreigsmarine build up and the ill-fated Graf Zeppelin, which was abandoned halfway through the war, amid wrangling between the Kriegsmarine and Luftwaffe.

Secret Projects of the German Kriegsmarine in World War II features little-studied designs, like tracked amphibious vehicles equipped with breathing gear, as well as the Luftwaffe-designed Siebel ferries that saw considerable service on the Eastern front. All the information is extremely well-illustrated, being accompanied by detailed drawings, action-packed photographs and artist's impressions of the different crafts. The historical snapshots, combined with modern, labelled drawings, help to put the past in perspective and bring to life the naval building projects.
Formato papel
[Sin existencias. Plazo de entrega breve]
PVP.

29,00€