Sailing Gold "Great Moments in Olympic Sailing History"
Chisnell, Mark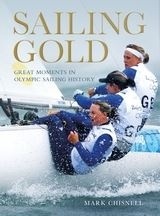 Formato papel
[En stock. Entrega en 24 / 48 horas]
PVP.

40,00€
Sailing Gold "Great Moments in Olympic Sailing History"
Chisnell, Mark
Comenta y valora este libro
resumen
comentarios
índice
This gorgeous photographic coffee table book reflects the entire history of Olympic sailing, with spectacular photographs celebrating heroes such as Paul Elvstrom and Ben Ainslie, fabulous locations, legendary classes - and the never-ending struggle of an Olympic sailor to make his mark.

Sections cover:
- An overview of the three eras of Olympic sailing (early years and yachting; modern dinghy racing and Elvstrom; the new professional era and Ainslie)
- Origins - how sailing came to be in the Olympics
- The struggle - training, teamwork, trials, selection, hope and heart-aching near misses
- Legendary classes and boat designers - those that made an enduring impact
- The new era - including the 49er, Laser, 470 and Europe, enabling fast and furious sailing
- Fabulous locations - including Mexico, Montreal, Sydney, Athens and China
- Icons, gold and glory - celebrating great Olympians, whose titanic struggles, outstanding achievements and logic-defying victories live on in the popular memory and add to the 'draw' of the Olympic legacy

Featuring awe-inspiring images from the best sailing photographers in the world, each with an enlightening and entertaining commentary, this stunning book is a true celebration of this amazing sport through the years.
Formato papel
[En stock. Entrega en 24 / 48 horas]
PVP.

40,00€
Otros libros de Chisnell, Mark
[Sin existencias. Plazo de entrega breve]

PVP. 27,00€

[En stock. Entrega en 24 / 48 horas]

PVP. 71,00€